Summer's hotter than ever in 2020 with an all-new cruise between Europe's two gay capitals – Amsterdam and Barcelona – for an incomparable journey to the most fascinating cities in Spain, Portugal, and France. From lush vineyards of Bordeaux to amber streets of Seville to powder-white beaches of Malaga, you'll experience something remarkable every day.
Summer's hotter than ever in 2020 with an all-new cruise between Europe's two gay capitals – Amsterdam and Barcelona – for an incomparable journey to the most fascinating cities in Spain, Portugal, and France. From lush vineyards of Bordeaux to amber streets of Seville to powder-white beaches of Malaga, you'll experience something remarkable every day. There's even an overnight in seductive Lisbon! All during the best season to sail, where summer sunshine and warm waters grace every amazing destination. Featuring thrilling new entertainment, spectacular outdoor parties, and 2400 great friends from around the world. With fares starting at just $1399, there's never been a better way to explore!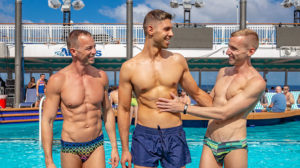 Atlantis cruises in Europe bring more guys together from more countries than ever before. With 2400 guests joining us from over 60 different nations, the Atlantis Med cruises have become the largest and most diverse gay experience in the world. Around half of our 2400 guests are from Europe, with large groups from Australia, Brazil, and beyond. It's a unique place to revel together, take pride in who we are, explore new horizons, and have a lot of fun along the way. We're thrilled to take you on a brand-new course in 2020!
While most of our entertainment is in English, Atlantis provides assistance to guests who speak French, German, Spanish, & Portuguese through our international hosts, original entertainment, and many special events.
Whether you come with a partner, friends, or on your own we'll make you feel right at home. Everything is designed to create a welcoming community, whether you're exploring a new city, laughing at our comics, learning about wine, or joining a table of new friends. Our relaxed atmosphere makes it easy to feel comfortable, from the first day at the pool to nights filled with the silliest costumes you've ever seen.
Norwegian Jade
We know you'll love the incredible variety of exciting venues and wonderful options onboard the Norwegian Jade. In so many ways, she's the perfect ship for the Atlantis Amsterdam to Barcelona Cruise.
It's hard to tell which onboard space best represents Jade — they all seem to hint at an amazing experience. Spinnaker Lounge hosts Atlantis comedy shows, our original cabaret performances, a little drag karaoke and even some late, late night dance parties. The three-story Stardust Theater boasts the perfect setting for Atlantis' signature entertainers and Norwegian's awesome production shows. Pull up a chair at Maltings Beer & Whisky Bar as Atlantis' talented entertainers take you on a musical journey. Try your luck in the casino or meet friends in our nine inviting bars and lounges. There's something for every taste and style onboard.
Chill out, unwind, and relax in Jade's two sparkling pools, six hot tubs, and countless sun lounges. There's even a water slide for the kid in all of us. Pick up a game of volleyball on the outdoor court. Or let our talented team pamper you in the Mandara Spa. Of course, there's plenty to keep you active at Body Waves Fitness center, featuring the latest equipment and invigorating classes.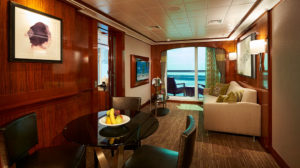 Simply Beautiful Rooms. Everywhere.
Jade's large and comfortable staterooms all sparkle with a fresh modern look, finished in rich cherry wood. Haven suites and an entire deck of mini-suites offer the ultimate in luxury, including private concierge service to handle your every need. Every room is state-of-the-art with coffee makers, color televisions, comfortable duvets, and larger bathrooms than other ships. Room service is available 24 hours a day. And of course, you'll find a friendly greeting in the morning, ice buckets filled in the afternoon, fresh towels twice a day, and a turned down bed to come home to after a long night.
For the ultimate indulgence, the Haven's Villas and Penthouses offer elaborate rooms, a private pool and sundeck, butler service, and a host of other exclusive amenities. There's even a one-of-a-kind 3-bedroom Garden Villa offering the largest suite at sea!
Delicious, Fun, Special, and Never Formal.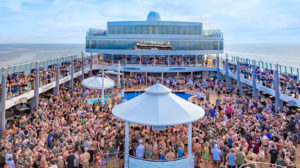 With 13 dining options, including a sushi bar, teppanyaki grill, tapas and churrascaria, there's always something new to try on Jade!
From the inviting Azura and Tsar's Palace main restaurants to the expansive Garden Café, you'll always find a variety of tempting delights to satisfy you. As with all Atlantis cruises, there's never a dress code or assigned tables, so you can dine whenever you choose. Our Atlantis team is always there to help you find a table with friends. Dine on American classics at O'Sheehan's, grab a poolside snack at the Sky High Bar & Grill.
Looking for something casual? Garden Café is open almost 24 hours a day, featuring full breakfast and lunch buffets, plus casual dinner alternatives and a late-night service specially designed for Atlantis. And Sky High poolside grill offers up a variety of delights under the beautiful pacific sunshine.
Of course, the real fun begins at our six incredible specialty restaurants – perfect for a romantic night out or celebration with friends. You'll find everything from Moderno, an authentic Brazilian steakhouse, to Chin Chin's Teppanyaki rooms and Asian restaurant. Check out Le Bistro for a fresh take on classic French specialties. Gather a bunch of friends for a rousing Italian dinner at La Cucina. Or enjoy the perfect steak and your favorite cocktail at Cagney's.
Still hungry after all of that? Room service* is available around the clock including 24/7 pizza delivery!
*An extra charge may apply according to the cruise line policy.
Sip, Watch, Enjoy
Jade was built for entertainment, starting with our massive three-story theater and continuing in the fascinating lounges throughout the ship, including Spinnaker, with wrap-around views of the sea. Enjoy a freshly muddled drink at Sugarcane Mojito Bar, or be a winner in the inviting Casino. We'll present fresh up-and-coming acts in the colorful FYZZ Lounge. Or just settle in for a drink in one of our other inviting bars throughout the ship.
What better place to start a gay cruise than Amsterdam, Europe's most gay-friendly city, where charming canals meet a dynamic and passionate scene. After a relaxing day at sea, explore the legendary vineyards of Bordeaux, or simply explore the marvels of one of France's most recent transformations. Bilbao's stunningly modern museum sets the tone for the gateway to the magical countryside of Spain's Basque region. Indulge in the culinary and visual wonders of Galicia, as La Coruna's awe-inspiring cliffs, windswept pristine beaches, and glorious seafood tempt you at every turn.
Our dramatic arrival into Lisbon will put you in the mood to enjoy the wonders and fascinating nightlife of this unique coastal city. With a full day and night to explore you'll truly have time to enjoy one of Europe's most progressive and constantly changing cities. Just save some energy for historic Seville where ancient streets are lined with treasures beyond your imagination.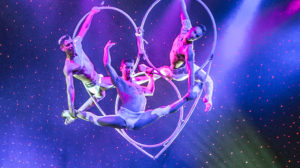 No visit to Spain would be complete without exploring the beachside city of Malaga, with a magnificent coastline and laid-back attitude. It's the perfect base to explore the wonders of Spain's rich south, including the medieval city of Granada and more.
Finally, the ultra-modern Calatrava structures that dot Valencia bring you face-to-face with the future of Spain in one of the world's most beautiful coastal cities. That is, until we arrive in glorious Barcelona!
After all that exploring, you'll be thrilled to come home to the stunning Norwegian Jade. Fresh from a multi-million-dollar upgrade, Jade features a fantastic spacious central pool deck, with incredible open spaces for dancing under the sun and stars. You'll love her innovative modern look, enticing restaurants, full-service spa, and spectacular performance venues.
While we sail between these amazing ports, there's plenty to do onboard to keep you entertained, from daytime pool games to our festive afternoon T-dances. Take in our original drag bingo, indulge in a leisurely brunch or a playful game of volleyball, or just find a quiet deck chair. When you're ready to soothe yourself after a long day of touring, drop into the spectacular spa with every imaginable treatment along with one of the largest and most complete fitness centers at sea.
In so many ways, Jade is the perfect ship for an Atlantis cruise!
Every night, Atlantis presents some of the world's finest gay and lesbian performers in our spectacular 1000-seat theater, along with superb production shows and so much more. Virtually everywhere you turn you'll find Atlantis signature cabaret stars, piano maestros, variety acts, drag stars, hilarious comics, and so much more. All of them ready to keep you laughing, singing, amused, and amazed.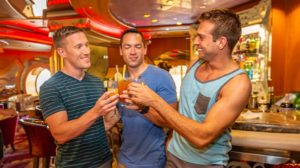 Nothing in the world compares to dancing outdoors, surrounded by thousands of friends from around the world. Jade offers the most striking space we've had to create a masterful setting of sound, lighting, and special effects. Starring four of the world's top DJs to create Europe's hottest summer parties.
Atlantis theme parties are legendary, original, and endlessly inviting. Our zany afternoon t-dances encourage you to have fun in ways you never imagined. And it's all so easy, since you don't have to travel, pay a cover, or plan ahead – it's all right there if and when you want it.
A cruise holiday makes it easy to do it all, since virtually everything is included – superb accommodations, world-class dining, stellar entertainment, fascinating enrichment activities, endless nightlife, and so much more. Each day is an extraordinary new adventure filled with opportunity.
We work hard to create amazing value with fares starting at just $1399 for 10 magical days of fun and discovery. With fares this low, there's never been a better time to get onboard Europe's most exciting gay cruise as we sail from Amsterdam to Barcelona! Check Availavility