Epic meets incredible next summer on Europe's largest gay cruise! For the first time ever, Atlantis sails the incredible Oasis of the Seas with 5400 guys from over 60 countries from Barcelona to the best of the Med. Featuring our signature performers, truly outrageous parties, superstar concerts under the stars, legendary DJs, and an incredible festival of entertainment that never ends. It's the pefect blend of onboard magic and amazing places to explore — all on the largest cruise ship in the world!
Explore. The Best of the Med.
There's no better place to start a gay cruise than Barcelona, where stunning modernist architecture meets the best beaches of any European city. We'll set sail to the charming island of Mallorca to experience true Spanish culture in the vibrant town of Palma. Discover the magic of Provence and the joys of the French Riviera in Marseilles. Explore the Italian coastal marvels in Cinque Terra or the heart of Tuscan culture in Florence. And there's nothing like a day in Rome where the eternal city beckons.
Our last port in Naples offers some of the most diverse experience in the Med, from the ruins of Pompeii to sophisticated Capri to the thrilling Amalfi Coast. After a relaxing day at sea you'll return to Barcelona refreshed, smiling, and surrounded by new friends!
Fun! With More Choices than Ever.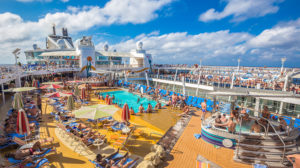 Seven distinct neighborhoods on seventeen decks offer unique experiences and original ways to play. Stroll lush gardens in Central Park, ride the Boardwalk's carousel, laugh with our comics in the Comedy Club, or take a spin on the ice rink. Or fly the spine-tingling zip line, marvel at the high-diving show, enjoy a drink at The Rising Tide bar, or learn to surf on twin FlowRider simulators 150 feet above the ocean.
Play! Any Way You Want.
Days at sea offer endless options, starting with an entire deck dedicated to sports and activities. Join a game of water polo in the sports pool, climb one of the two challenging rock walls, soar through the air on the zip line, or play volleyball on the full-size court. There's even ice skating! Or check out our FlowRider surf simulators 150 feet above the ocean!
Staying active is easy in the first-rate, fully equipped gym, featuring the latest in cardio and weight-training equipment. And runners will love the wrap-around ocean view track!
Royal Caribbean Oasis of the Seas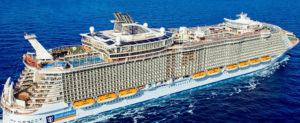 Sail one of the largest ships in the world! Oasis of the Seas combines spectacular innovation with incredible imagination, packed with amazing experiences like the oceanside AquaTheater, Broadway hit
musical Cats, Studio B ice rink, zip line, twin FlowRiders, designer stores, and so much more. Everywhere you turn, there's something for everyone to discover and enjoy.
With 29 ultra-modern loft suites and 2700 spacious staterooms, this 17-deck marvel proves that the impossible, is possible. You have to see it to believe it, and won't believe what Atlantis does to create a truly legendary experience for Europe's largest gay cruise.
With Distinctive Neighborhoods Oasis revolutionizes ship design with seven completely original "neighborhoods" for your enjoyment. OK, since one of these is the "Youth Zone", we'll only really be using six.. Come get into it.
The Boardwalk
Shops, shows, and people-watching featuring the AquaTheater, a full-size Carousel, classic burgers at Johnny Rockets, and delicious margaritas at Sabor. And don't forget Boardwalk Dogs – the most popular cruise snack!
Entertainment Place
Variety rules at the intersection of your Comedy Club, Jazz Club, massive Casino, Blaze nightclub (specialty and after-hours), Studio B Ice Rink, and the largest Broadway-style theather at sea. And of course there's Dazzles, our retro-themed two-story nightclub with a spectacular view of the Boardwalk
Central Park
Simply remarkable. Stroll the gardens, enjoy lunch at the Park Café and shop the Britto store during the day. Make a reservation at one of the three magnificent specialty restaurants for an unforgettable evening in the park!
Royal Promenade
The social hub of the ship becomes the world's biggest indoor gay "street", Meet friends in the Champagne bar, pub, or an engaging piano bar. Grab a snack at the 24-hour café or mouth-watering pizzeria, browse the shops with the merchandise designed just for Atlantis, try your hand at Karaoke in On Air, or add a little spice to your night at Bolero's
Pool and Sports Zone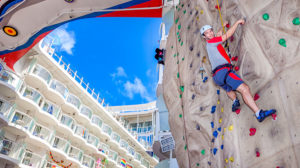 Choices abound in the world's largest outdoor playground at sea. Four distinctive pools offer a variety of places to soak up the Mediterranean sun, ranging from the frenetic Sports pool to the refreshing Beach. For a little more action, head to the back of the ship where two FlowRider surf simulators, a full-size volleyball court, mini-golf course, six-story rock climbing walls, and that crazy zip-line will challenge you.
Vitality at Sea
From pampering to pumping, you'll find it all at the spectacular two-story spa and fitness center. Treatments abound in the largest spa at sea, with the latest in massage, hydrotherapy, and much more. The world-class gym offers the latest in weight-training equipment, top-quality cardio gear, expert classes from spinning to yoga, and the longest running track on a ship.
Action Everywhere!
There's always something to keep you entertained on the world's largest ship. From our four-story twin rock-walls to the exciting Flowrider surf simulators, you'll discover sports and activities that you simply won't find on land. Fly on a zip-line 110 dizzying feet above the boardwalk or cool off with a few figure eights around our ice rink. Join a game of volleyball or basketball on the largest sports court at sea, or simply relax in one of our hot tubs that overlook the ocean from the side of the ship.
The massive pool deck features four distinctive areas, including our own "beach" pool and a sports center. And the fitness center rivals any top club you've ever seen.
An Abundance of Great Dining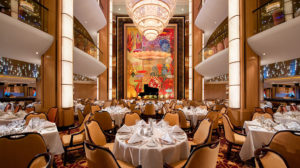 There are so many ways to dine on Oasis that the only problem is deciding where to enjoy it all. The magnificent three-story main restaurant features an ever-changing menu of culinary delights, all in a casual setting with no assigned dining times or tables. As with all Atlantis cruises you're always welcome to dine whenever you desire. And of course, there's never a dress code!
For a casual bite, try one of the following great options:
Park Café – Casual breakfast and lunch in the middle of Central Park
Café Promenade – 24-hour light snacks
Sorrento's Pizza – Authentic made-to-order pizza
Starbucks * – Does it really need an explanation? The only one at sea!
Solarium Bistro Restaurant – Fresh, healthy, and marvelously delicious breakfasts and lunches.
Johnny Rockets* – The original hamburger with great views of the Boardwalk
Windjammer Marketplace – Casual buffet with a menu designed just for Atlantis
If you're looking for a more leisurely or special meal, check out one of these original specialty restaurants:
Chops Grill – The best steak on the high seas in our original steak house
Giovanni's Table– Authentic trattoria-style Italian eatery in Central Park
150 Central Park – Original and sensational tasting-menu gastronomic experience
Izumi – Sushi and other Japanese delights
Sabor – Original modern Mexican cuisine
Please note that all specialty restaurants and those marked with an asterisk (*) have an extra charge.
Simply Gorgeous Staterooms
When you do finally come home to rest, you'll find one the most modern and well-designed staterooms on any ship. Every room features large interactive LCD televisions, pillow top mattresses with high-quality linens, private bathrooms, and the personalized service that makes Royal Caribbean one of the favorites for Atlantis year after year.
For something truly remarkable, take a look at the two-story Loft Suites, featuring floor-to-ceiling windows, a huge living room, and massive balcony. Other suites throughout the ship feature spacious accommodations in a variety of formats to accommodate any taste and budget. All suites (Grand and above categories) offer access to the fabulous and exclusive Concierge Lounge featuring evening canapés and cocktails, a private breakfast, and the services of our expert Concierge team.
This adventure has no adds on as in yet.
Get onboard the world's largest ship to discover everything you want in a vacation as we redefine the possibilities of an all-gay cruise. Incredible features onboard set the stage for an unforgettable experience:
5 theaters starring original Atlantis performers and more
3 spectacular outdoor party spaces
3 dazzling indoor party venues
13 tantalizing restaurants and cafes
4 gorgeous pools on the world's largest and highest open-air deck
The world's biggest live music concerts at sea
7 unique "neighborhoods" to meet friends, explore, play, and relax
An ice rink, two rock walls, zip line, sports court, two FlowRider surf simulators
Great friends from over 60 different countries
There's something for everyone onboard the most spectacular Atlantis cruise Europe has ever seen!
Stars. On Stage, Water, & Ice.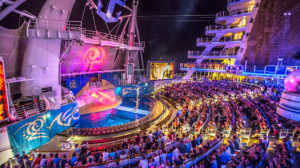 Three fantastic main-stage venues and unique intimate spaces host the biggest gay entertainment festival Atlantis has ever created, starring amazingly talented performers from our community and beyond. The three-story theater hosts a dazzling full production of Broadway's Cats, spectacular production shows, Atlantis signature entertainers, plus Air-Otic – our original gay flying show.
And that's just the beginning. The multi-faceted Studio B offers a dazzling ice skating show, concerts, and more. There's even a stunning water show in the Aqua Theater – a true marvel of acrobatics, high-diving, and visual spectacle set against the ocean's night sky.
Atlantis presents the world's best gay comics in the comedy club, a seemingly endless parade of drag queens in Dazzles, and the most original and talented cabaret performers in our community. All with a few surprises popping up along the way.
Dance! Europe's Most Spectacular Parties.
Atlantis' legendary parties take place in five incredible venues to create the most spectacular parties on land or sea. From our themed T-dances to thrilling evenings, there's nothing like dancing outdoors under the ocean's sky. Oasis boasts our best settings in Atlantis history for parties that defy imagination.
The sensational AquaTheater hosts the biggest afternoon T-dances (and a few special events) in our most spectacular venue yet, surrounded by huge LED screens, world-class sound, soaring views from the balconies and rock walls, and ocean views all around.
At night, we'll transform the massive open-air Solarium into the ocean's most technically advanced nightclub, with a wrap-around video wall, awesome lasers and dazzling lighting effects. With two stories of dancing, there's never been a bigger or better venue to host our thrilling events.
Of course there's more, including special events in the Promenade and progressive after-hours parties in Studio B. Discover alternative music in Blaze, and retro-classics in the art-deco themed Dazzles.
Enjoy. The Friendliest Way to Dine.
From quick bites between events to leisurely multi-course meals with friends, Oasis offers amazing and tantalizing dining choices. The elaborate three-story main restaurant invites you to enjoy freshly prepared seasonal cuisine. Grab a chair and a salad in Central Park at the Park Café. Or sit down over sushi at Izumi. There's always a fresh pizza waiting for you at Sorrento's and Café Promenade never stops serving delicious sandwiches and other treats.
And for something special, dig into Michelin-starred chef Michael Schwartz' farm-to-ship cuisine at 150 Central Park. Or gather some friends to savor authentic Italian at Giovanni's Table. Indulge in a perfect steak at Chops or the wonders of Sabor Modern Mexican on the Boardwalk.
Of course, there's never a dress code or assigned seating on Atlantis so you'll always feel comfortable in our casual, friendly dining environment.
All from just $1199.  Get onboard and experience the biggest gay cruise to ever sail the Med!
Contact Us for availavitlity.