GREEK ISLES CRUISE
August 18 – 25, 2022
The most requested and dreamed about destination is now a reality… VACAYA is taking you to the Greek Isles in Summer 2022! And we're not just talking about the gayest and most well-known islands like Mykonos and Santorini, which we'll visit, of course… but islands no ocean-plying behemoth could EVER get to… Amorgos, Symi, Patmos, and Hydra!
The most requested and dreamed about destination is now a reality… VACAYA is taking you to the Greek Isles in Summer 2022! And we're not just talking about the gayest and most well-known islands like Mykonos and Santorini, which we'll visit, of course… but islands no ocean-plying behemoth could EVER get to… Amorgos, Symi, Patmos, and Hydra!
We're sailing the 5-star Le Bougainville from PONANT. She's all ours – with included alcoholic and non-alcoholic beverages, WiFi, and a host of other fantastic benefits. And while our ship is luxuriously decadent, the true stars of this show are some of the most beautiful islands in the world! We'll overnight in Mykonos on a Friday night, giving you the chance to explore all the wonders of this magical LGBT+ heaven, and we'll also get a late Saturday night in Santorini, as well. Scholars think Santorini is where the lost continent of Atlantis was located before it was blasted to smithereens when Thera blew her top. And you genuinely haven't lived until you've sat on the caldera of a volcano eating scrumptious delicacies pulled right from the sea just moments earlier!
As the only French cruise company, PONANT is an ambassador of the "French Touch" around the world. With French crew, discrete service, refined cuisine, and partners that embody the same spirit of excellence and refinement, PONANT does their utmost to maintain a unique cruising philosophy.

FRENCH CREWThe French Touch means, above all, a French crew to welcome you and ensure your comfort and well-being throughout your cruise. In an atmosphere of elegant luxury, you'll find 5-Star Serviceonboard. It's a unique travel experience that is simultaneously authentic and refined. The highest level of butler service is included for all the Privilege Suite, Grand Deluxe Suite, and Owner Suite of deck 5 and 6.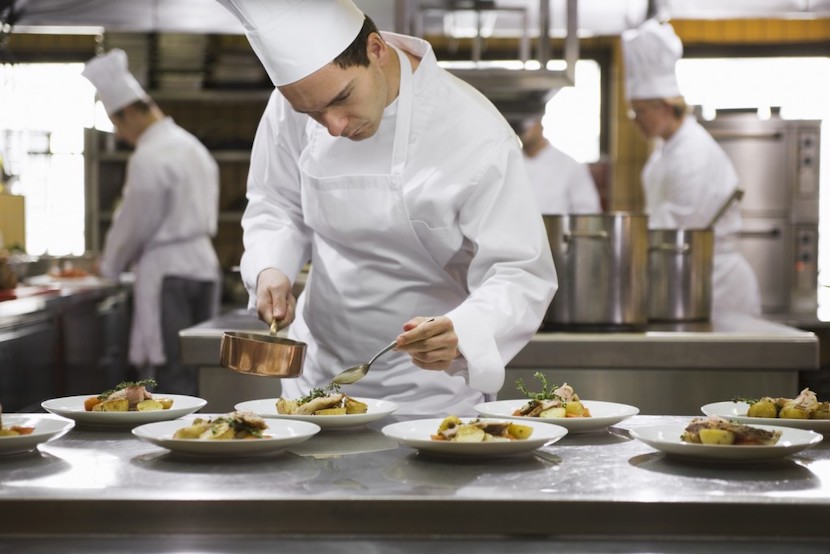 A FRENCH WAY OF LIVING
The French Touch also means a way of living in which excellent gastronomy takes pride of place. Every day you'll discover fragrant flavors, carefully selected cheeses and wines, and delicious specialty breads & pastries from Maison Lenôtre. Maison Taillevent provides its fine selection of vintage wines by the glass, Maison Veuve Clicquot champagne is served at our gala cocktails, and delicious sweets from the Ladurée bakery are on offer during afternoon tea time.
PRESTIGIOUS PARTNERS
Finally, the French Touch is also evident in our choice of partners, whose expertise and passion for their work is in line with our own quest for excellence: interior design by Jean Philippe Nuel, fabrics by Pierre Frey, delicate flavours from Le Palais des Thés, Hermès bath products in all staterooms and suites, spa care products by Sothy's, and signature perfumes from Fragonard.
MEET the BEAUTIFUL EXPLORER, LE BOUGAINVILLE
Boasting 92 finely-appointed staterooms and suites, Le Bougainville is one of 6 identical Explorer-class ships from PONANT. Le Bougainville gives you a unique yacht-like cruising experience thanks to her cutting-edge design, environmentally-friendly equipment, smaller size, and subtle blend of refinement, intimacy, and comfort.
Discover Le Bougainville's sister Le Lapérouse (the first ship in the Explorer series) in this video look at PONANT's Explorer Class…
STATEROOMS
Le Bougainville's elegantly-designed staterooms and spacious suites boast a warm contemporary interior design by Jean-Philippe Nuel. The designer took direct inspiration from the destinations and cultures explored during PONANT's stopovers and then punctuated the design with beautiful ethnic touches.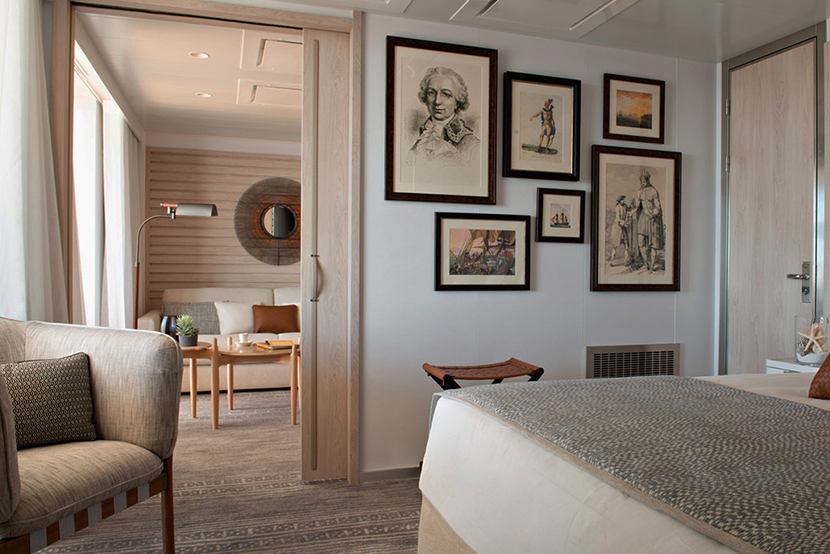 POOL & NATURE VIEWING DECK
Le Bougainville's pool offers a panoramic view of our surroundings and is equipped with a counter-current swimming system. This is THE spot for daytime relaxation and fun with fellow cruisers. There's also an outdoor bar and lounge with armchairs and sofas, perfect for our organized events and parties.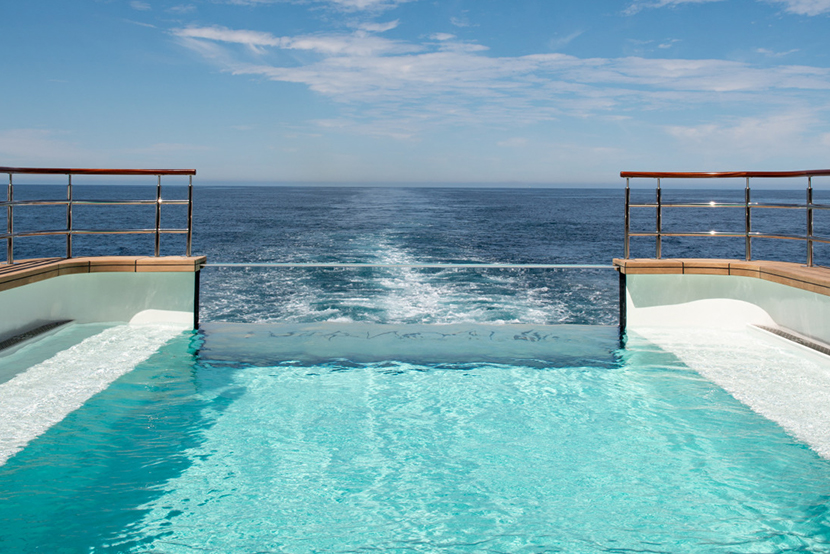 A fully-equipped sundeck and 3-position marina allow access to the sea for swimming and water sports (paddle boarding, snorkeling, etc.). The crystal blue waters of the Aegean await your play!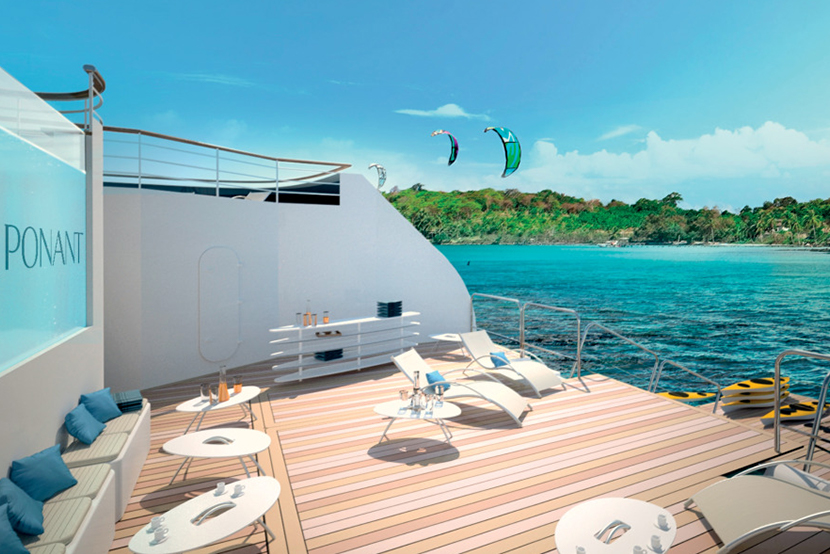 On Deck 4 Aft, you'll find the ship's panoramic restaurant, which can accommodate all of us in a single sitting. This dining area, which opens onto the outside, will have a buffet of salads, desserts, and cheeses at your disposal. And the ship's discrete and attentive crew will provide table service for breakfast, lunch, and dinner. For a more relaxed atmosphere, an outdoor grill on Deck 3 serves grilled meats with a variety of salads and desserts. And of course, complimentary room service is available to you 24×7.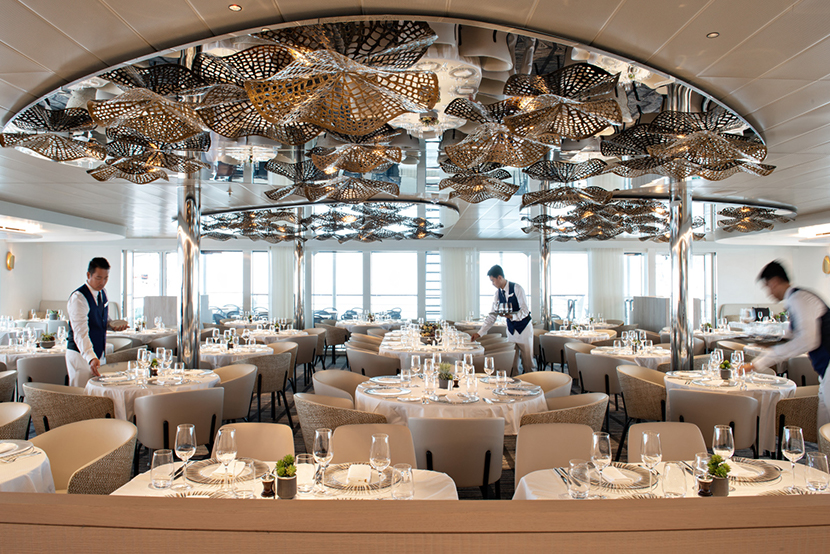 Blue Eye is a first-of-its-kind multi-sensory underwater lounge built to transport you to the universe under the sea. The designers' mission is to enable you to perceive and feel the underwater universe in a way that never ceases to amaze. The integrated digital screens project the live images from three underwater cameras. An immersive sound experience can be felt in the Body Listening sofas, which discreetly vibrate in harmony with the ocean's natural cycles and brings you closer to the marine mammals you'll see and hear behind the giant portholes.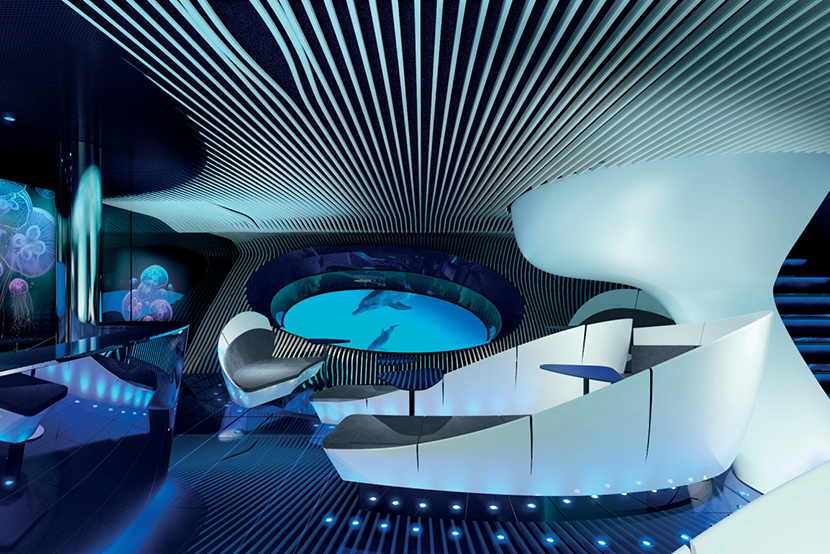 Different lounges enable you to socialize and share moments together with other cruisers during your vacation. Our ship features the Main Lounge, an ideal place to meet over a drink and watch daytime or evening events; the Panoramic Lounge, an intimate piano bar with a unique view of the horizon; and the Outdoor Bar, a relaxation area with access to the pool and solarium. The Main Lounge can accommodate all guests for VACAYA's social activities both day and night.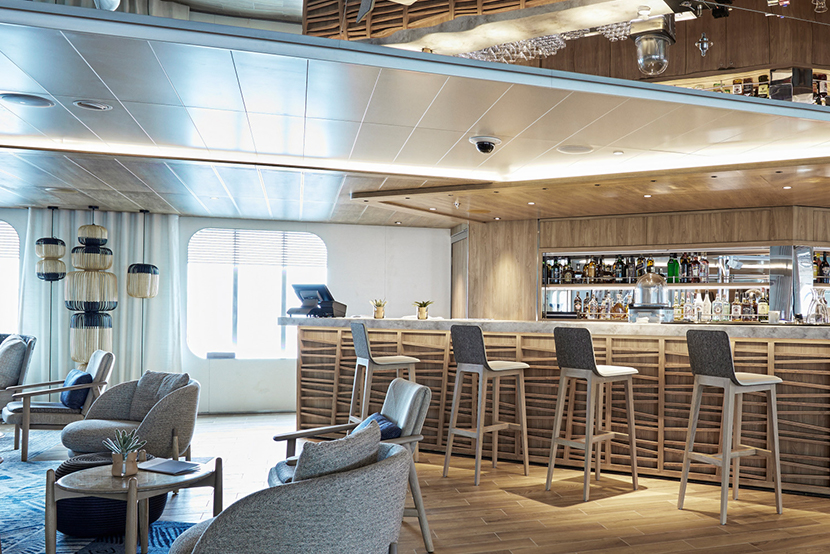 The theatre seats 188 and is equipped with the latest sound and lighting technology. This will be the showcase venue for VACAYA's all-star entertainment line-up. It's also equipped with an LED wall as the backdrop, allowing for multimedia presentations and destination lectures.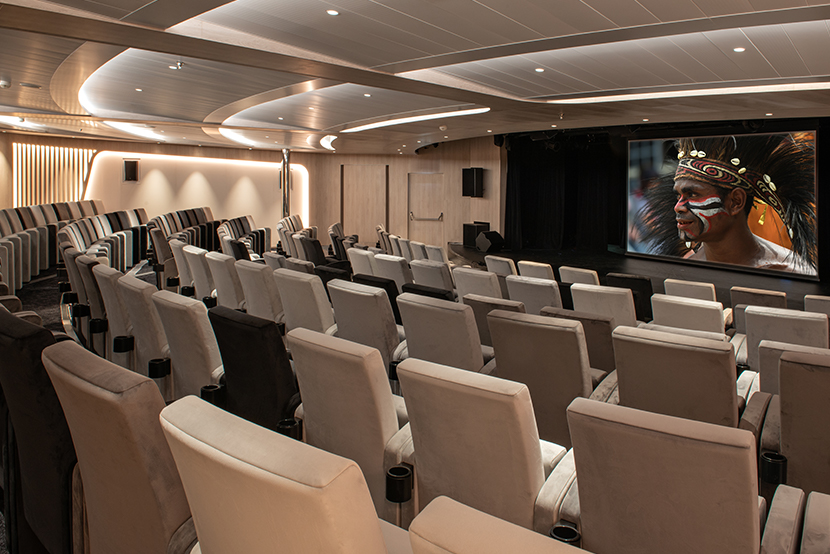 The Spa offers a series of luxury treatments. Choose from moisturizing facials, relaxing massages, aromatherapy baths, anti-aging treatments, and enjoy a moment of absolute relaxation. There's a salon as well, offering hair styling, barbering, manicures, and pedicures.
The spa area includes a lovely sauna that's larger than you'd typically expect on a ship this size. With a window facing the outdoors and long curvy benches, it's an enticing retreat after each day in port.
The Fitness Center, boasting picture-perfect views of the open sea, features the latest Technogym machines, including a Kinesis Wall.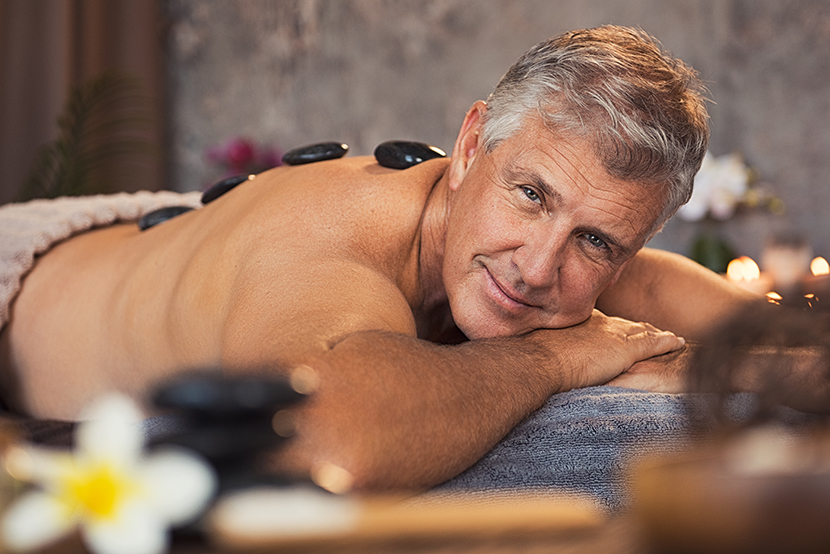 Le Bougainville's common areas are designed and equipped to meet all your needs while preserving the intimacy of the experience. A 1500-square-foot reception area welcomes guests and fulfills a variety of functions from reception and concierge to excursions and boutiques.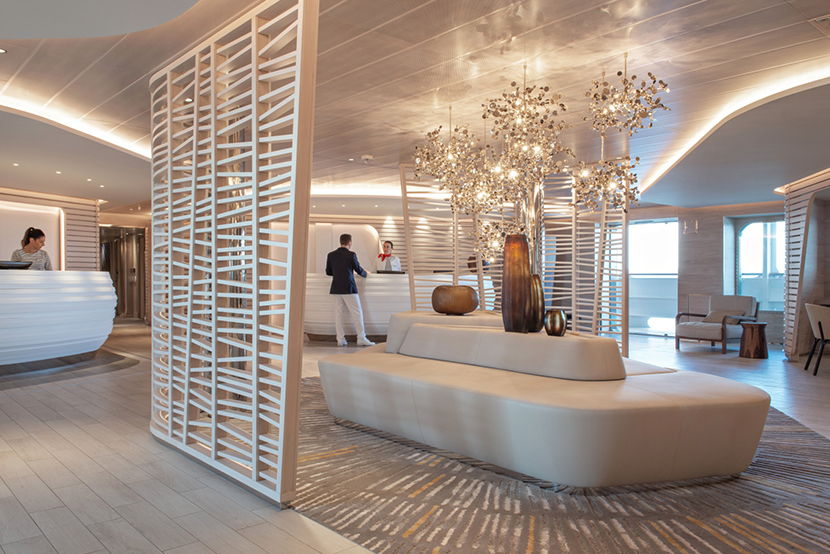 SANTORINI POST-CRUISE ADD-ON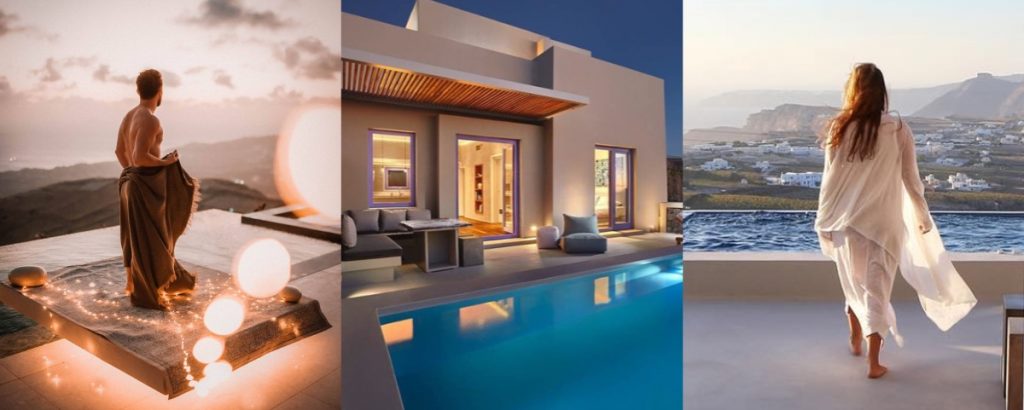 There are only a few places on earth equal in beauty to Santorini. And although we'll have a great afternoon and evening in this magical place as part of our cruise, we already know… that won't be enough for you. So we've partnered with Santorini's newest luxury resort, Santorini Sky, as well as her nearby and equally gorgeous sister Voreina Gallery Suites to bring you the ultimate post-cruise experience in Europe's hottest new must-see LGBT+ destination!
Both Santorini Sky and Voreina boast a level of luxury as high as their location, up to 2,000 feet above the Aegean Sea. From the unique design of each resort's villas to the unparalleled amenities and service, we've carefully considered every element of your stay to help make it perfect. Sit back, relax, and enjoy a travel experience like no other in the world.
This post-cruise experience is open to 34 lucky VACAYA cruisers. Rooms are being sold on a first come, first served basis and we don't have the ability to add any more rooms beyond our resorts' 17 perfectly appointed villas. So grab one quickly before they're all gone!
Optional Post-Cruise package includes all of the following:
Thursday, August 25, 2022
Transfer from Le Bougainville to Athens Airport (ATH)
Short 30-minute Economy Flight from ATH to Santorini Airport (JTR)

*

Transfer from JTR to our hotels
3-Night Private Villa Stay with Welcome Amenity
Daily Breakfast
Your own ATV Quad Bike Throughout Your Stay (one 2-person ATV per Villa)
Welcome Reception
Friday, August 26, 2022
Saturday, August 27, 2022
Spectacular Helicopter Tour of Santorini
Farewell Dinner
Sunday, August 28, 2022
Transfer from our hotels to JTR
Economy Flight from JTR to ATH

*

All Gratuities
There are 2 limited packages available:
The Deluxe Villa Package is 2897 USD per person, based on double occupancy. All deluxe villas feature a separate living room, powder room, and a full kitchen.
The Classic Villa Package is 2497 USD per person, based on double occupancy.
With only 17 villas between Santorini Sky and Voreina Gallery Suites, this exclusive luxury add-on is available to a maximum of 34 lucky VACAYA guests and is being sold on a first come, first served basis.
This 7-night journey begins and ends in Athens, where you'll step back thousands of years with your visit to the Acropolis. Just below this UNESCO World Heritage site, you're destined to fall in love with Plaka, with its maze of colorful streets, where the drifting aroma of moussaka and garlic prawns will tickle your taste buds. Even if you've been to Greece before, we know you've never been like this – dripping in luxury on PONANT's newest class of ships, able to get into the Aegean Sea's most charming small ports of call. If you want to see and feel the real Greece, the super yachts of PONANT with VACAYA are the only way to go.
trip highlights
DISCOVER 7 AMAZING GREEK ISLANDS
UNESCO WORLD HERITAGE SITES
FRIDAY OVERNIGHT IN MYKONOS
LATE SATURDAY NIGHT IN SANTORINI
5-STAR LUXURY ON PONANT'S NEWEST CLASS OF SHIPS
OPTIONAL POST-CRUISE SANTORINI ADD-ON
WHEN CRUISING PONANT WITH VACAYA, YOU'RE CHOOSING COMFORT, REFINEMENT, & DISCOVERY…
2022 Greek Isles Cruise continues the already-robust tradition of redefining all that's possible in the world of LGBT+ luxury travel. Of course savvy travelers recognize "value" rarely means "low price." Instead, value is defined as getting something extraordinary for a great price. And that is exactly what THIS Greek Isles Cruise delivers.
The Vacayans are dedicated to providing you with the very best. That's what drives them, journey after journey. And it's amazing what's included:
7 Nights aboard the stunning Le Bougainville
All Meals, featuring subtle and audacious flavors inspired by our ports of call
Complimentary unlimited Open Bar throughout your cruise (premium alcohol extra)
Complimentary unlimited Open Mini-Bar in your Stateroom/Suite (premium alcohol extra)
Complimentary WiFi/Internet
Daily Afternoon Tea and Pastries
24-hour Room Service
5-Star Service
24×7 Stateroom Service
24×7 Reception Desk
Fitness Classes
The following services are available for an additional charge:
Shore Excursions
Salon Services
Laundry
Satellite Telephone Services
Medical Services
You can Contact Us at 713 253 0244 for more price info and real time availability.