About the Trip
OCTOBER 30 – NOVEMBER 6, 2021
VACAYA returns to Mexico just in time for you to take that fully vaccinated self of yours out for a spin! You've been locked up for well over a year and it's time to burst free from that cage! And VACAYA's got the PERFECT occasion and the PERFECT resort to celebrate your new-found freedom…
VACAYA returns to Mexico just in time for you to take that fully vaccinated self of yours out for a spin! You've been locked up for well over a year and it's time to burst free from that cage! And VACAYA's got the PERFECT occasion and the PERFECT resort to celebrate your new-found freedom…
It's Halloween & Day of the Dead and we're taking over Riviera Maya's newest jewel (a AAA 4-Diamond jewel to be exact) – the all-new Hyatt Ziva Riviera Cancun Oct 30-Nov 6, 2021. This beautiful resort delivers a level of luxury never before seen at this price point and she's all ours for 7 fun-filled nights!
You've never been able to live this luxuriously at this price point! It's a once-in-a-lifetime* opportunity by every measure, with EVERY meal, EVERY drink, EVERY party, EVERY show, and EVERY social activity is included – all for one incredibly low price!
Boasting 10 world-class restaurants, 7 bars, a theater, a spa and fitness center, 9 pools (including one clothing optional), and a waterpark, VACAYA Oasis @ Hyatt Ziva is the all-inclusive vacation of your dreams at a price point that truly is fantastical.
Hyatt Ziva Riviera Cancun will make her debut in September 2021. She's expected to be among the most coveted stays in all of Riviera Maya – a AAA 4-Diamond jewel nestled perfectly on a sparkling turquoise beachfront between Cancun and Puerto Morales.
Hyatt Ziva's motto of "living in the moment" perfectly aligns with VACAYA's "seize the day" ethos. Hyatt Ziva offers an all-inclusive experience with endless opportunities to live in the moment. You'll be entrenched in unique and spontaneous experiences, and whether you seek ultimate relaxation in a carefree, sophisticated setting or a fun-filled day of activities, VACAYA and Hyatt Ziva have you covered!
Our resort features 438 stunning suites with luxurious amenities, modern décor, and beautiful views of the resort and sea. All rooms and suites boast spa-like bathrooms with rainfall showers, turndown service, high-tech entertainment, and complimentary refreshment centers with soft drinks and premium beer. Relax on your furnished balcony and enjoy the seascapes as the sun rises or sets.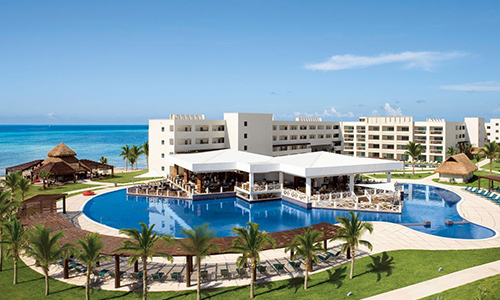 CENTRAL POOL
Hyatt Ziva's fabulous central pool will become the hub of daily VACAYA activities with Resort Director Danny Lee Cabrera leading the way. Overlooking the Caribbean Sea, our expansive freshwater pool is the resort's heart, with daily activities, pool games, and more.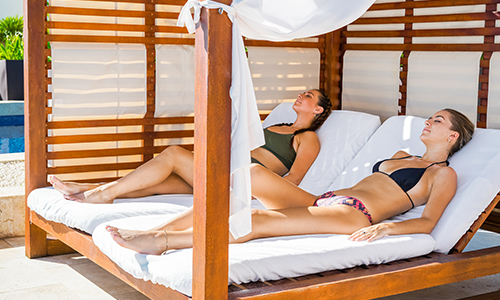 CABANAS WITH WAITER SERVICE*
If you need a little more peace and quiet, feel free to take advantage of the resort's 8 other more intimate pools. If you want to experience the perfect sun-drenched day, our beautifully appointed cabanas are the way to go. Each of these spacious retreats features details and furnishings that provide comfort, convenience, and service that make your time here immensely pleasurable and relaxing.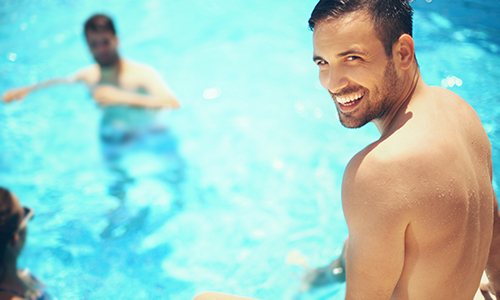 CLOTHING OPTIONAL POOL
This signature VACAYA venue is quickly becoming the heart of a growing community of naturists who find camaraderie in being one with nature. And you've not seen pool games until you've seen naked pool games!
"THE STRIP" Powered by JUSTFOR.FANS
If you're looking for non-stop fun in the most exciting neighborhood at Hyatt Ziva, go west! The Strip's west end rooms are 668 sq ft and feature either 1 king or 2 double beds – one for sleeping and the other for…
Each room along The Strip's 4 floors also features a fantastic private terrace overlooking the clothing optional pool. And with friendly neighbors and our brand sponsor, JustFor.Fans, in the neighborhood, endless excitement is guaranteed!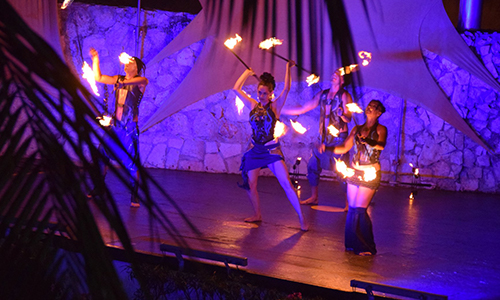 AMPHITHEATER
Evening entertainment will take place in the amphitheater – our open-air theater where VACAYA's signature talent will be featured.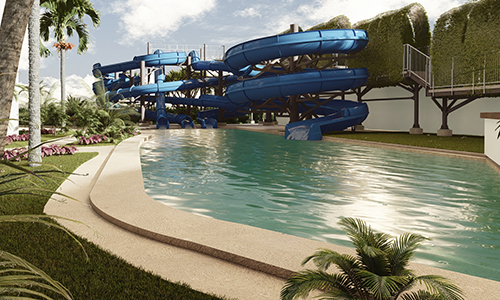 WATER PARK
Come play in our sprawling water park with tall slides and let the kid come out in you!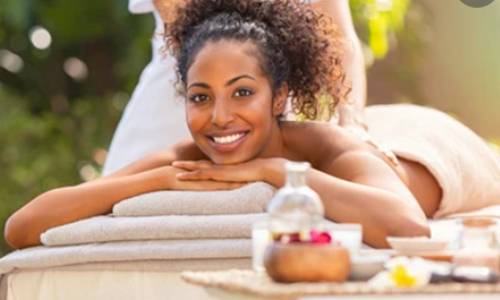 ZEN SPA*
The two-story Zen Spa was inspired by Mayan culture and invites you to reach a level of tranquility you've never experienced before in one of 13 indoor and 8 outdoor treatment rooms. Indulge with a chocolate body wrap or simmer under a hot stone massage. But first, the hydrotherapy area calls. Follow that up with a couple's massage, a warm Mayan mud wrap, or a refreshing citrus exfoliation. Delve into the most gracious state of bliss and let all your worries drift away.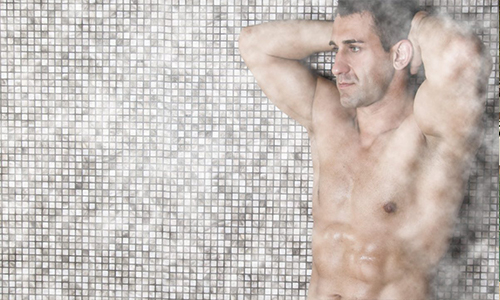 HYDROTHERAPY CIRCUIT*
Detoxify, rejuvenate, and reconnect mind, body, and soul as contrasting water temperatures soothe and provide you with immediate relief. Our healing waters feature a steam bath, outdoor tub, and sauna and can be experienced as a circuit or individually.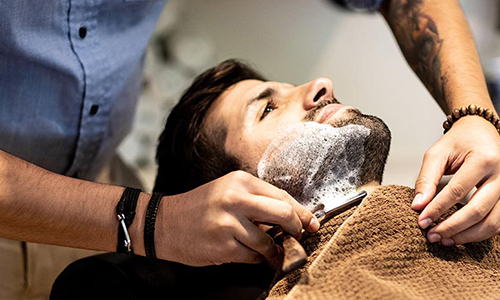 BEAUTY SALON*
Look your best and feel amazing with a range of transformative beauty services tailored to your unique personal style. Services include manicures & pedicures, nail polish services, hair styling & braiding, haircuts for him and her, and full & partial body waxing.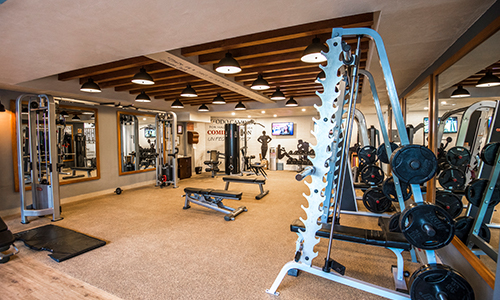 FITNESS CENTER
If you're looking to sweat a little bit while you're here, we've got you covered! Hyatt Ziva's 24-hour state-of-the-art fitness center will be waiting for you. The fully equipped sports center and fitness activities are a great way to learn a new skill, work on your physique, or simply maintain your healthy routine. The resort also offers stretch classes, aqua aerobics, beach volleyball, and non-motorized aquatic sports.
Hyatt Ziva Rivera Cancun offers an exciting culinary scene at 17 restaurants, bars, and lounges inspired by flavors from our own backyard and across the land. The options are endless… savor traditional Mexican flavors at Ki, comforting French classics at Rue the Rivoli, and taste the best burger you've ever had at La Parrilla. Satisfy your sweet tooth or caffeine craving at Casa del Café and experience a traditional afternoon tea – or cocktail – at Infusions. For a private meal, enjoy chef-inspired dining in the comfort of your own suite, available 24×7, included! All dining experiences are included except for two premium venues: Roots and The Red.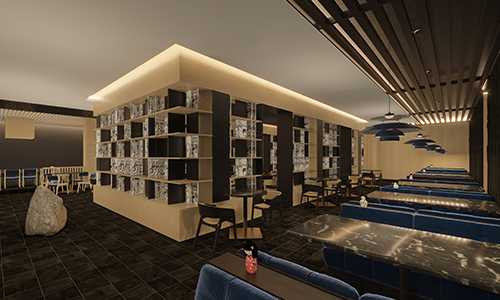 MIYAKO
Thai, Chinese, and Japanese cuisines come together as one in the mystical Miyako as our chefs prepare sushi, curry, ramen, stir-fry and more right before your eyes.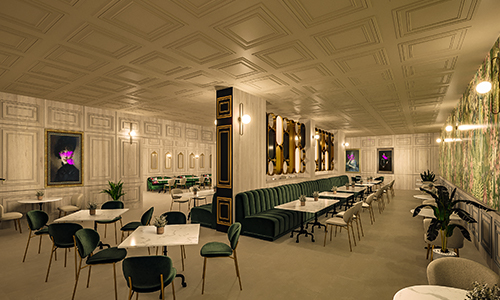 RUE DE RIVOLI
This beautiful restaurant has the perfect ambiance to explore the flavors of French cuisine, which come in mouthwatering modern form.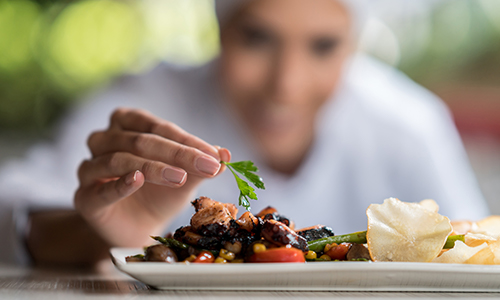 VIVACE
Local and imported ingredients come to life at Vivace, with a menu highlighting fresh Italian and Mediterranean flavors in a sophisticated space.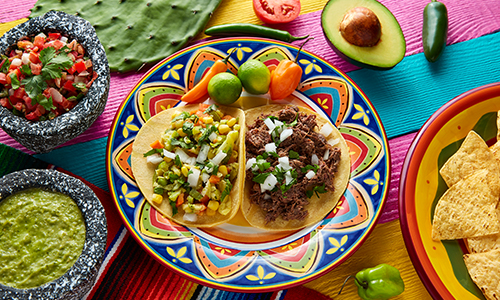 KI
Here, Mexican food gets a modern makeover while maintaining its most traditional flavors and spices.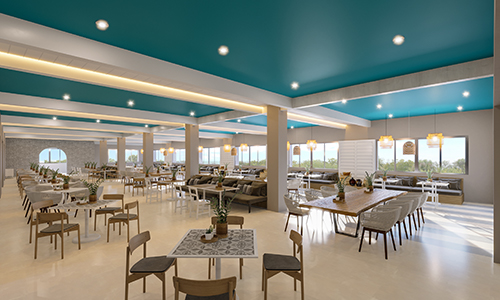 AFTHONIA
Start your day at this delectable breakfast buffet. At night, enjoy Mediterranean cuisine perfectly prepared with the freshest ingredients in a relaxing ambiance.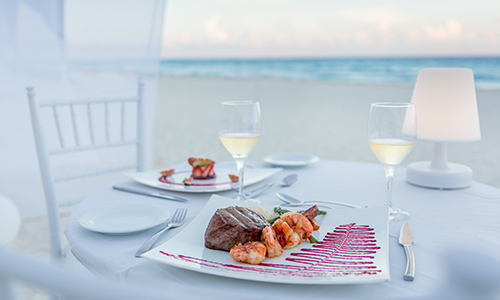 BALIK
Wine and dine al fresco as we deliver the freshest seafood, prepared with Caribbean flair amid unsurpassed ocean and pool views.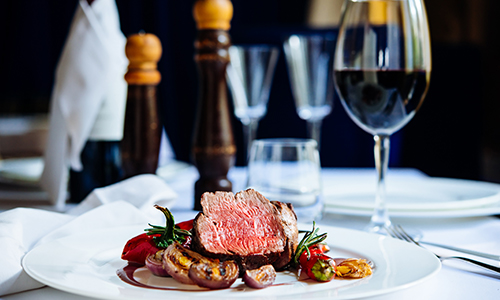 LA PARRILLA
At this outdoor eatery, beautiful cuts of meat and vegetables are artfully prepared and heightened by cool ocean breezes and a gorgeous view.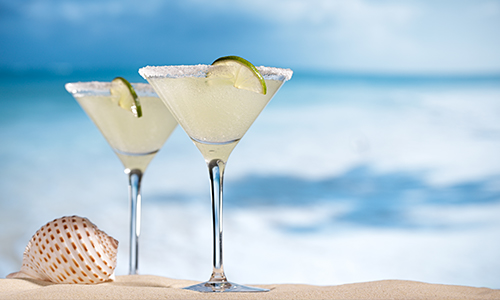 HABANEROS
Here, mouthwatering tacos, fresh seafood ceviche, zesty aguachiles and tangy margaritas are served on a deck overlooking the sea and sand.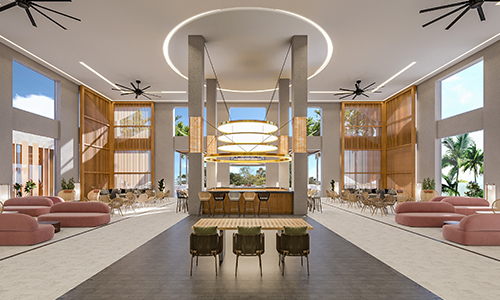 INFUSIONS
This hotspot is known for over-the-top drinks mixed and poured with fresh ingredients and unique presentations in a cool laidback setting.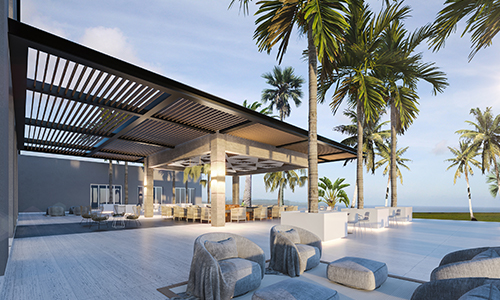 BREEZE
After a day filled with adventure, relax with a cocktail in hand at this breezy outdoor lobby bar.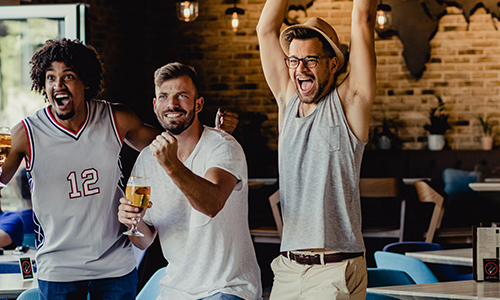 OFF COURT
Catch your favorite game in this lively sports bar serving incredibly tasty eats and refreshing drinks.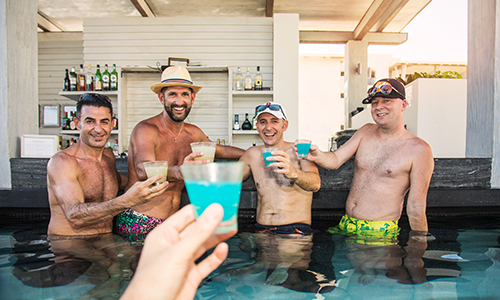 DELFIN
Swim up to Delfin from inside the main pool and order you refreshment of choice while enjoying the amazing shades of blue.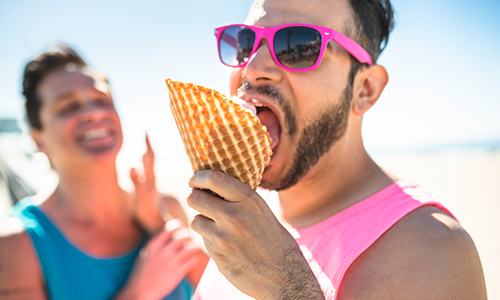 CASA DEL CAFÉ
Casa del Café is your one stop shop for a quick pick-me-up, whether that be a scoop of gelato, a scrumptious pastry, or refreshing iced coffee.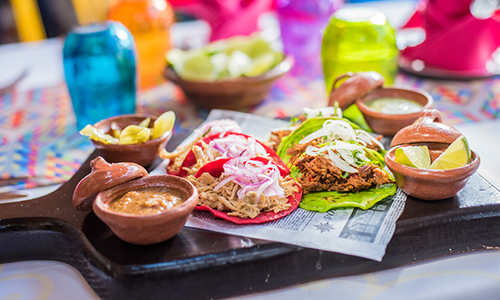 IN-ROOM DINING
Have you ever eaten breakfast with someone in a hot tub or a hammock overlooking the ocean? Well, at Hyatt Ziva with VACAYA, you can! Great cuisine can always be enjoyed right from the comfort of your room.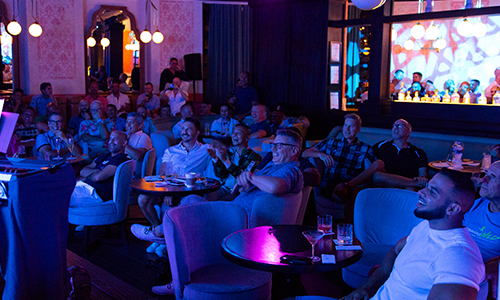 Hyatt Ziva offers a wide variety of fun activities. Enjoy pool games, savory wine and zesty tequila tastings, cooking classes, adventurous kayak outings, taco fests by the pool, and so much more! Dine in any one of the 10 à la carte restaurants and discover a new wine perfectly matched with your meal or let a mixologist create a signature cocktail for you in any of the 7 bars or lounges. Sit back and enjoy pool and beach waiter service or pamper yourself in the world-class spa.
*WASN'T THIS PROGRAM ORIGINALLY AT PANAMA JACK PLAYA DEL CARMEN?
Yes. One of the reasons we originally chose Panama Jack Playa del Carmen is its unique proximity to the ocean, but its idyllic location has brought a full set of unexpected challenges from Mother Nature. The hurricanes of 2020 coupled with rising global sea levels have caused a good portion of their beach to slip into the sea over the last several months. Although the efforts to save their beach have been Herculean, we were recently informed there's simply no way that restoration work will be completed by our event in October.
With that news and recognizing how important the beach is to the VACAYA experience, the company that manages Panama Jack, Playa Hotels & Resorts, has shifted us over to one of their other properties. Our contracts with resorts allow them to substitute a sister property of equal or better quality for a host of reasons, but we'll be honest… for as long as we've all been in this business, "loss of beach" is a new one for us.
"Better quality" is an understatement in regard to the substitute hotel they offered us – the new Hyatt Ziva Riviera Cancun, which opens in September. It's a bit like winning the lottery. We're now getting an experience much closer to UNICO quality (for those who traveled with us there in 2019 or 2020) at Panama Jack pricing, which is substantially less.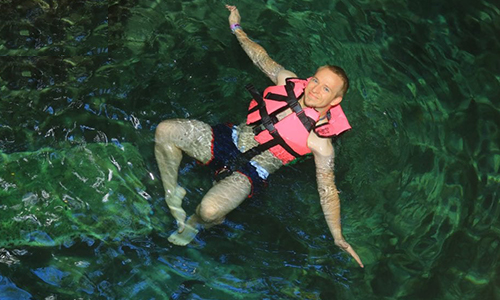 Hyatt Ziva is neighbored by multiple eco-adventure theme parks, awe-inspiring archeological sites, and an astonishing Caribbean coast. Options abound, including Xcaret's eco-adventure parks, local coral reefs with SCUBA or snorkeling, Río Secreto natural reserve, or magical dining experiences at the Cirque de Soleil La Joya. With a beautiful coastal location for a number of daytime activities, you're sure to find something to do no matter your taste. Hyatt Ziva will make it easy for our guests to plan and purchase excursions at the best prices available.
 *Additional Charge Applies
THE BEST ALL-INCLUSIVE VACATION VALUE – A LUXURY EXPERIENCE WITH TRUE VALUE PRICING!
All-inclusive resorts offer an amazing value for any cost-conscious traveler, and Hyatt Ziva Riviera Cancun offers all that along with a level of comfortable accommodations you can sink into at this incredibly affordable all-in price point. On a sun-drenched beachfront in Puerto Morales, Mexico, the all-inclusive Hyatt Ziva welcomes you to recharge amid the azure seas, authentic culture, and coastal charm of the Riviera Maya. Cool, casual, and sumptuously luxurious, VACAYA has managed to provide a true 5-star luxury experience at rock-bottom prices. And with action-packed activities like beach volleyball and wine tasting to oceanfront swimming pools with waiter service, discover the perfect combo of relaxation and adventure. Explore all the inclusions and judge for yourself the incredible value of VACAYA's newest and most affordable all-inclusive luxury resort experience to date!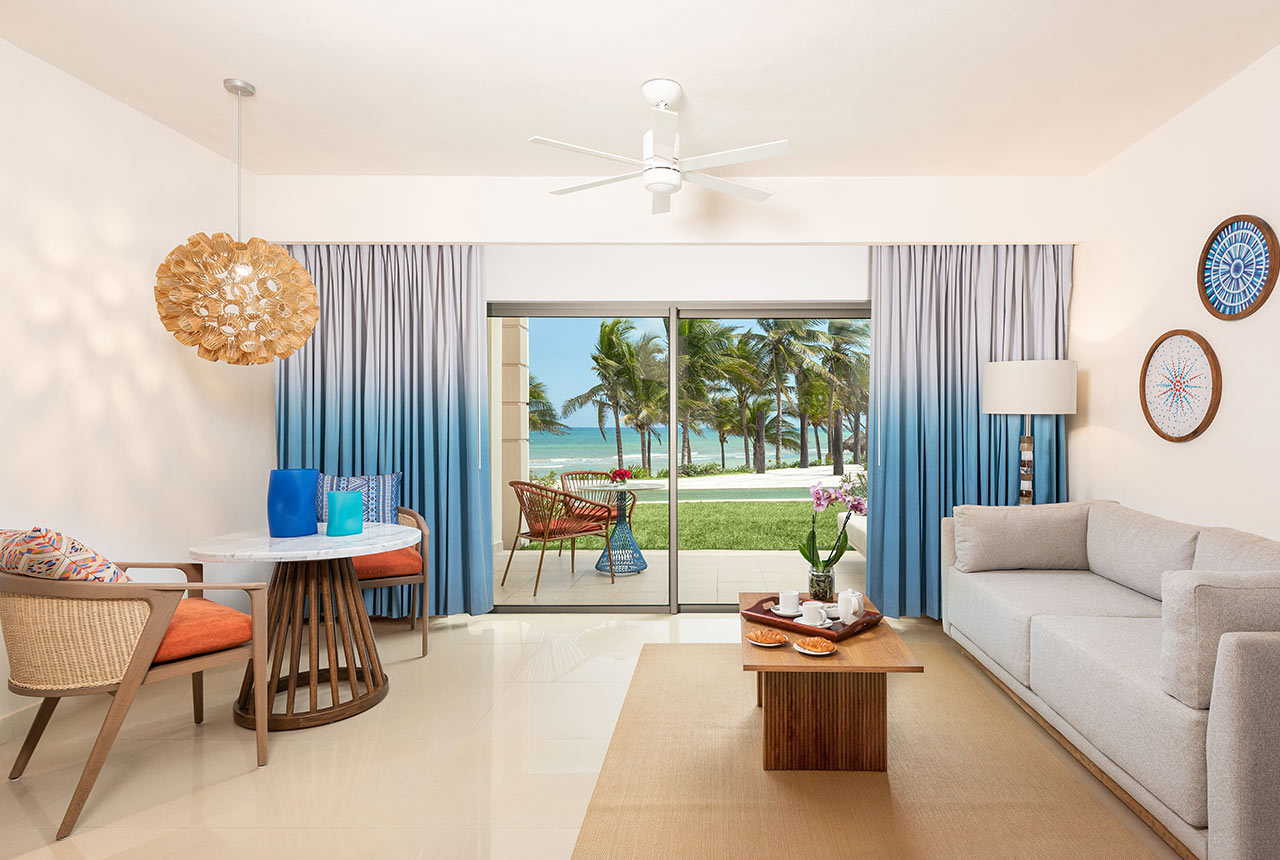 ACCOMMODATIONS FOR KINGS AND QUEENS. INCLUDED.
Contemporary and elegant, Hyatt Ziva's accommodations are designed with your comfort in mind and inspired by the sea, sun, and sand. With Hyatt's deep insight into the desires of travelers, thoughtful amenities include stocked minibars, furnished terraces, ocean views, delectable room service, and several special touches. She's a true home away from home. INCLUDED.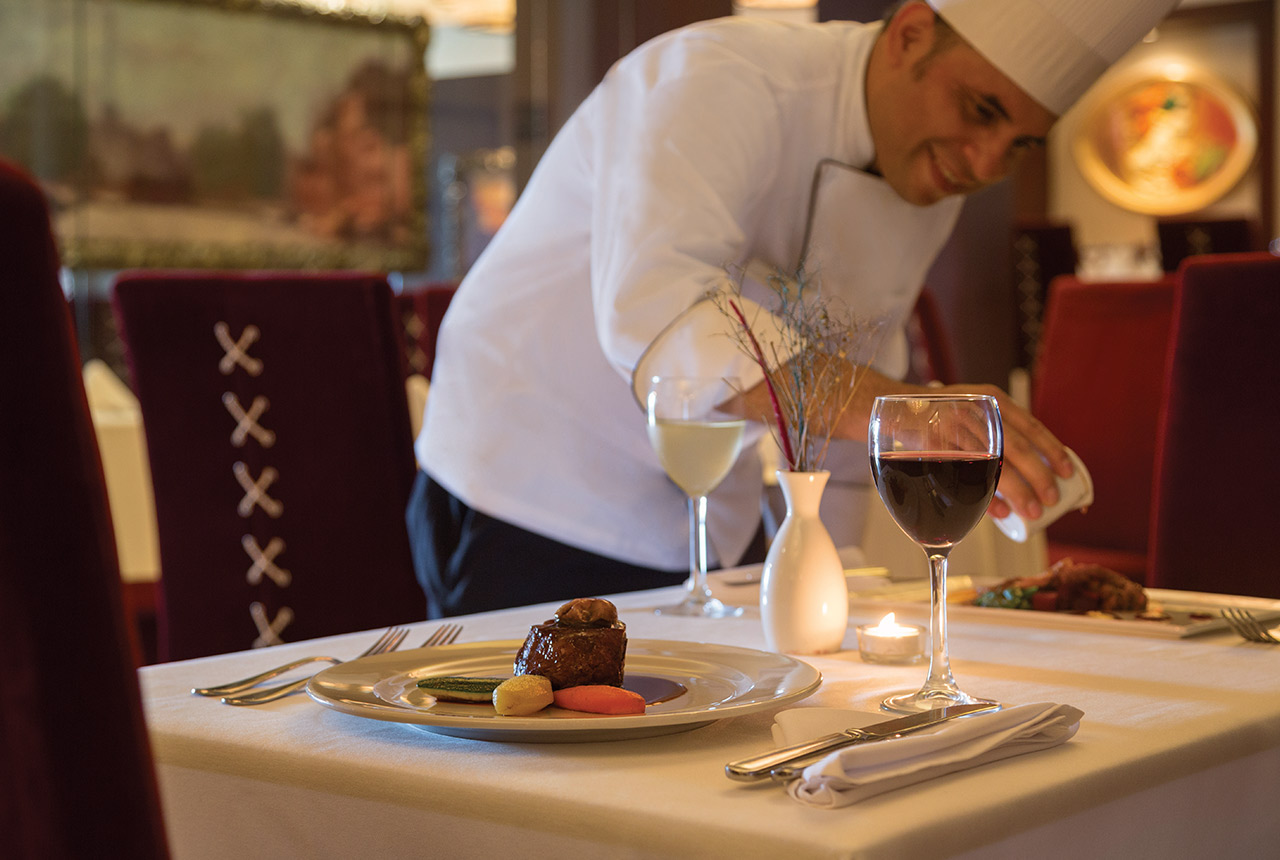 DELICIOUS FOOD. INCLUDED.
At Hyatt Ziva, the attentive waiters and expert chefs will take you on a tasteful trip around the world, one dish at a time at the resort's included restaurants, bars & lounges, and of course in-room dining. Prepare for a multi-sensory culinary adventure as your culinary travel takes you not only to Mexico, but to France, Japan, and Italy, as well. ALL INCLUDED.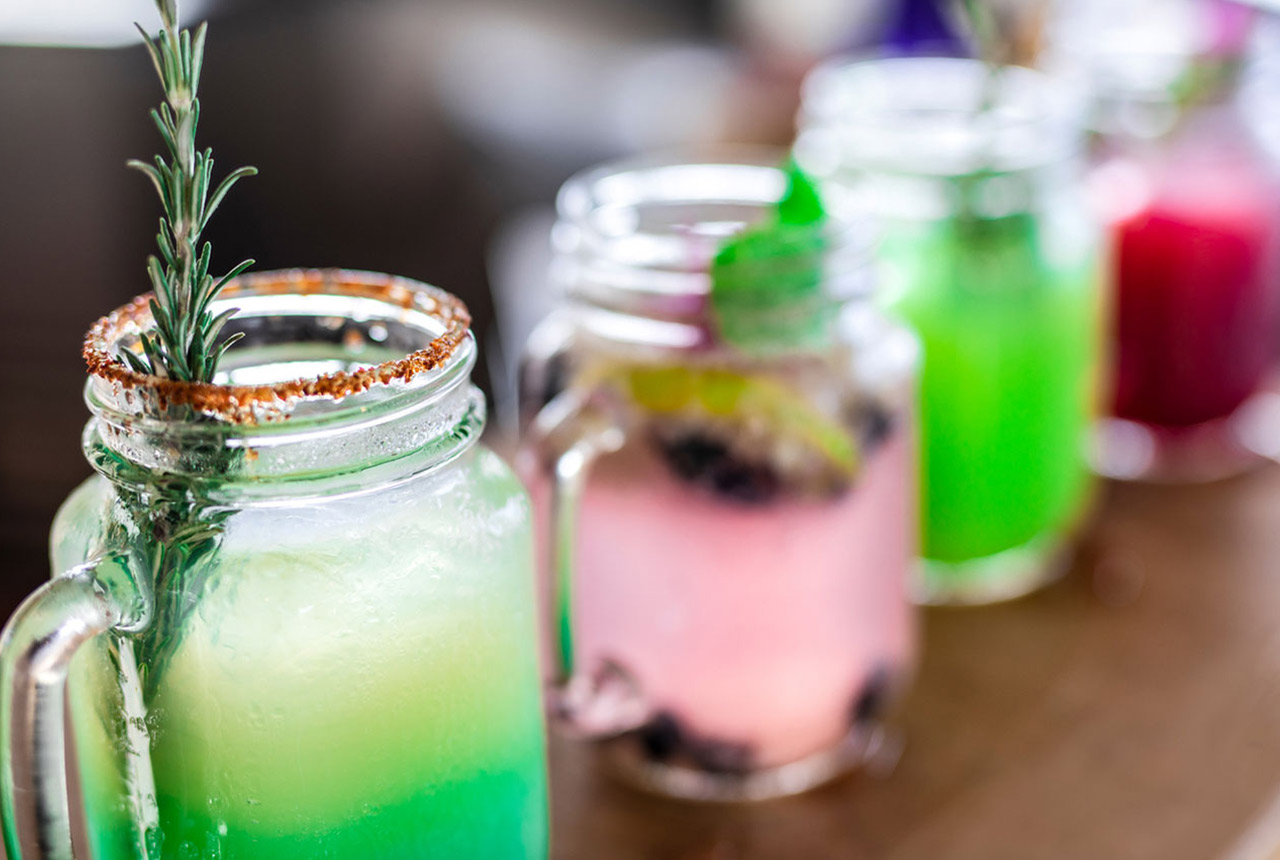 TOP-SHELF DRINKS. INCLUDED.
Hyatt Ziva's mixologists know how to whip up your favorite 'tini, smoothie, or frothy libation. Meticulously crafted cocktails and a selection of top shelf spirits can be found resort-wide. Premium branded alcoholic and non-alcoholic drinks, bottled water, specialty coffees, and teas at all of hotel's food and beverage outlets during their regular hours of operation are ALSO INCLUDED.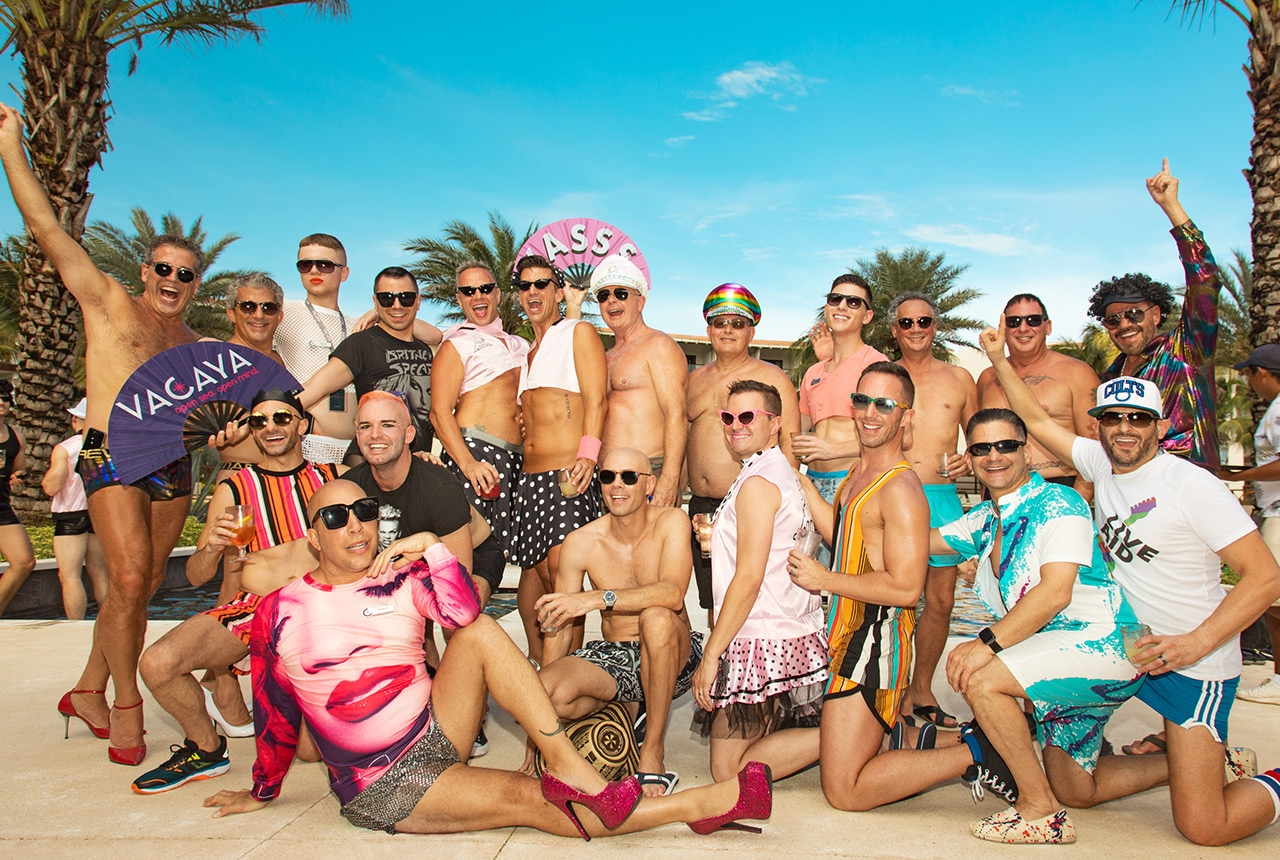 ACTIVITIES & PARTIES. INCLUDED.
With VACAYA, you're in complete control of your own schedule. You can hop from one activity to the next or simply relax at the resort's pools overlooking the Caribbean Sea. Our activities include pool games, fitness classes, cooking demonstrations, mixology lessons, meetups, crafts, and more. Part of the fun of each and every VACAYA resort vacation is our theme parties. Once we're 120 days out, we'll share the party themes, so you can dust off those sewing machines and refill those hot glue guns! Just let your creativity (or your Amazon Prime membership) soar! And while costumes are always encouraged, they're never required. We'll love you in or out of costume and you'll enjoy your time at VACAYA's friendly welcoming parties no matter what. ALL INCLUDED.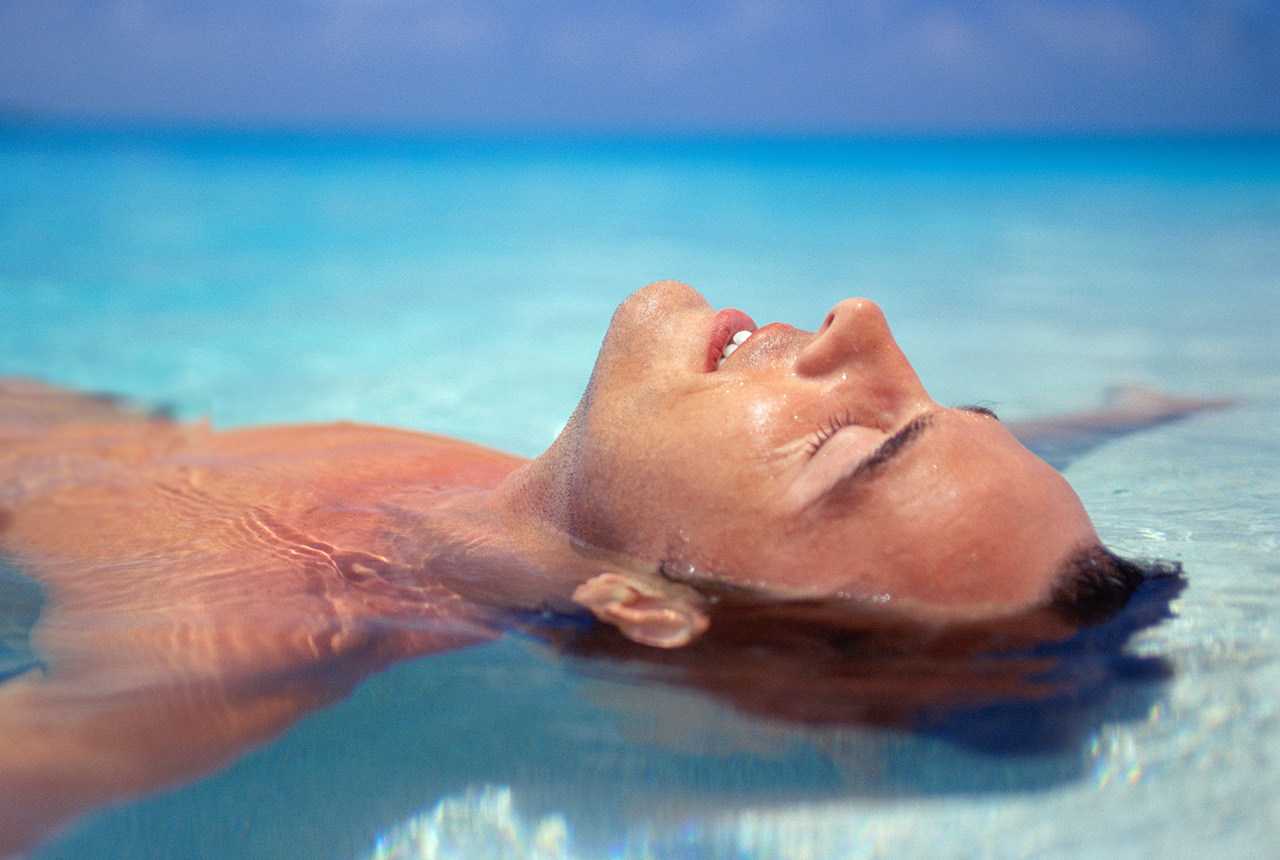 CLOTHING-OPTIONAL POOL. YEP, INCLUDED.
Whether you hate tan lines and sand in your swim trunks, or just love the feeling of sunbathing au naturel, you're in luck – as VACAYA's Mexico Resort will again offer a clothing-optional area so the only suit you have to wear is your birthday suit! Our clothing optional pool is located in a secluded spot at the resort. There, you can soak in the sun by day and be a part of the bustling social beehive at night! INCLUDED.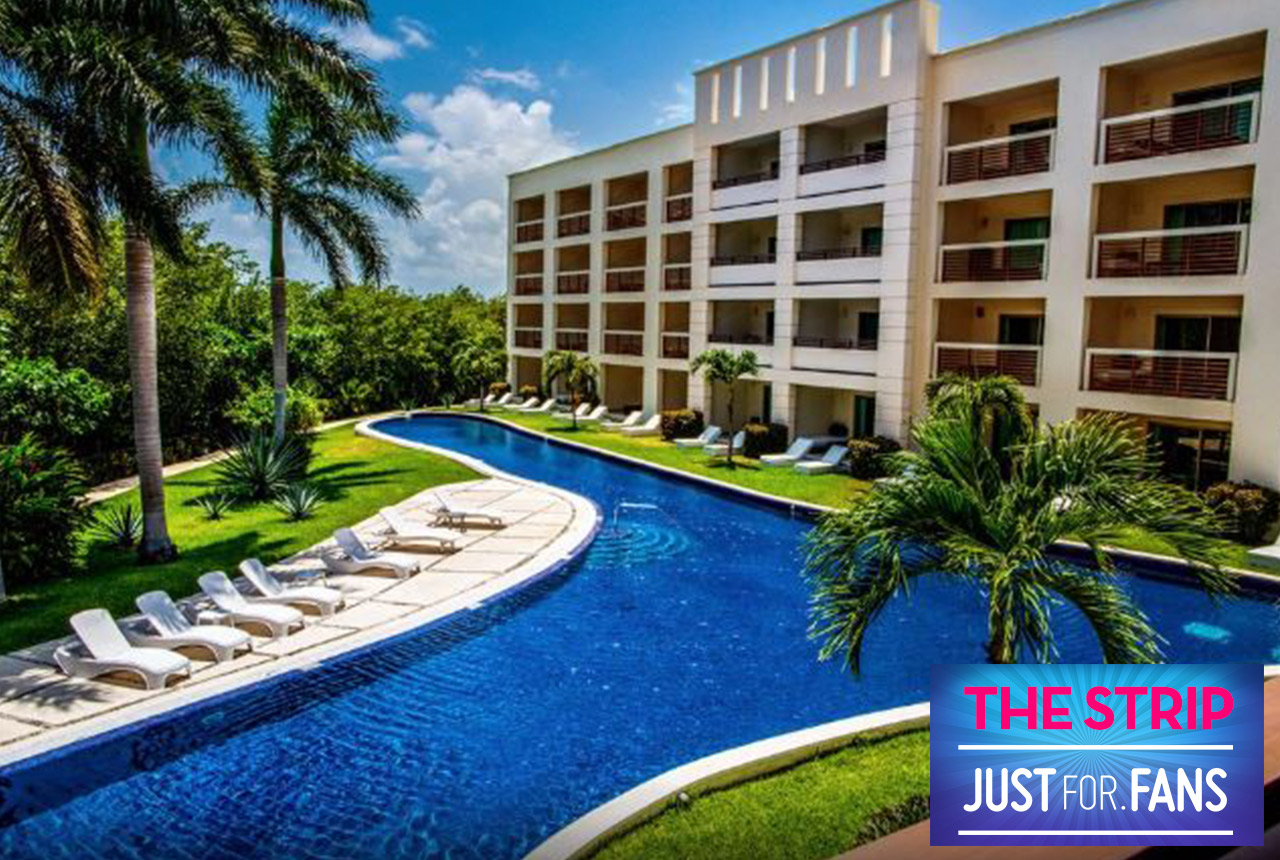 THE STRIP POWERED BY JUSTFOR.FANS… INCLUDED!
We're affectionately calling the rooms in Building 10 and 11 that overlook the clothing optional pool "The Strip" and they'll be be powered by JustFor.Fans throughout the week. So get ready to turn up the heat and get naughty because this venue's bound to blow your mind! INCLUDED.
FROM SUITES WITH STUNNING CARIBBEAN VIEWS TO OUR MORE AFFORDABLE TROPICAL VIEW AND WATER PARK VIEW JUNIOR SUITES, YOU'VE NEVER BEEN ABLE TO HAVE SO MUCH FOR SO LITTLE. YOU'RE SURE TO FIND YOUR PERFECT 4-DIAMOND HOME-AWAY-FROM-HOME AT A PRICE POINT THAT WORKS FOR YOUR BUDGET…
Resort and admin fees are 137 USD per person.
Please feel free to contact us and we can help you book your vacation. MY VACAYA also has a new reservation system allowing you to easily book your own trip. You can view pricing, pick your category and even select your own cabin or room when available. You can do this and still remain our client and it doesn't cost a penny more.
By allowing Concierge Travel to remain your agency of choice, you are making a difference in the community.  For example with our profits from the last four years, we have been able to expand our partnership with the Montrose Center in Houston and help create an annual event that has raised over $1,000,000.00 for the community. This has helped to create an LGBTQ Affirming Affordable Senior Living Center and has expanded their outreach to the LGBTQ Homeless Youth. In the last 3 years, thanks to this event, they have been able to triple the number of youth they support and place in their rapid rehousing program.
If you do book directly on their site, please follow up with us so we can assure your booking stays with Concierge Travel.
This product is currently Sold Out.