Join us on this fun-filled weekend vacation in Ft. Lauderdale. With incredible amenities and the best relaxing areas, and services that exceeds any expectation you may have.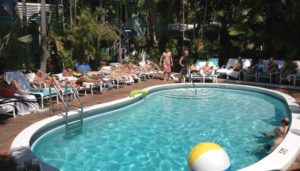 Pineapple Point in Ft. Lauderdale combines luxurious South Florida charm and splendor with unmatched care and service for its gay male clientele. Since 1999, this approach has influenced every aspect of the Pineapple Point guest experience, thanks to owners and founders Judd Chapman and Phil Quattrone, who are truly hands on.
Their careers in the airline and advertising industries took them all over the world. During this time, they searched for the perfect place to stay. They ultimately found it in a 1930s old world Florida property, originally designed as a guesthouse. Judd and Phil's talent is well known for building and restoring unique architecture. Their zeal and luxury minded approach played a key role in returning this gated tropical paradise to its original charm and splendor.
Since 1999, Pineapple Point has grown in size, accommodations and popularity, always with an eye toward an exclusive, luxurious, and unparalleled experience for guests.

With services that draws from traditions of yesteryear, yet exquisite accommodations boast the modern conveniences expected by today's sophisticated gay traveler. Guests will find High Speed Wireless Internet, voicemail, refrigerators, custom designed robes, TV/DVD's, and in-room safes standard in all of the rooms. All Suites, Villas and the Cottage are all equipped with Kuerig coffee makers.
This weekend has no adds on.
Including the best package in this guesthouse;
All Inclusive:
3 Nights Acoommodations
3 Breakfast
3 Lunches
3 Dinners
All Beverages Including Alcohol
Relaxing swimming pools
A fully equiped GYM
Fun whirlpools
Common Rooms
The Fabulous Tropical Gardens
$775.00 per person – All Inclusive
Single Travelers – $1275.00