Our favourite All-Inclusive All-Included in the largest private luxury estate in Puerto Vallarta is BACK on 2022, with world class amenities and the best treatments in town.
There's nothing like waking up in the balmy tropics to the sound of parrots chirping in the trees while you do your morning stretch and sip coffee, green tea, or freshly squeezed orange juice to a breathtaking view. A serene state of being emerges and the stress of the big city and work seem so far away.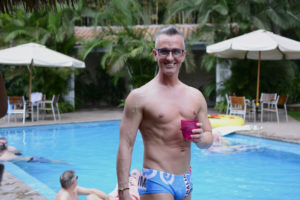 Villa Verano is Puerto Vallarta's largest private luxury beach front estate within 4 minute walk to downtown. These luxury  beach front private villas are conveniently far enough from the noise and  commercial businesses, but just a four minute walk to all the shops,  restaurants, and lively night life you come to enjoy in Puerto Vallarta. Surrounded by massive icy-covered walls, the compound is a sentinel to privacy, security, and solitude. No matter where you are in the estate, the breathtaking view of Los Muertos Beach will always be there, with alluring tranquility and serenity. You'll feel million miles away in paradise, yet you're only 2 hours from the United States.
VILLA VERANO – Main Building Houses Bedrooms 1-5
Bedroom 1: The smallest of all the 11 bedrooms but cozy charming 1 King Bed with a view down the coast and a view overlooking the main entrance courtyard to the villa.
Bedroom 2: A very spacious open room with large private shower and a spectacular view down the coast. To the left of the stairs with 2 Queen Beds and 2 glass walls that basically open all the time except when there is bad weather.
Bedroom 3: A very large spacious bedroom with 2 Queen Beds, oversized verandah and separate dressing room.
Bedroom 4: Though not the largest of the villa bedrooms, the owners feel it is the best in the building and has spectacular views of Vallarta, the beach and the bay, with 1 King bed, a large verandah, small dressing area and small bathtub.
Bedroom 5: With 2 Queen Beds and magnificent views and a partial view of the swimming pool area.
JUNGLE ROOMS – Located next to the main house and just below the swimming pool and sun deck area.
Bedrooms 6 – 8: Though identical, each have their own private charm with spectacular views through the jungle. These rooms with 2 Queen Bed are accessed by individual private spiral stair cases.
Bedroom 9: This room is called the Tree House and has a backside skylight and a small outside terrace. 1 King Bed
CASITA – The Casita resides just below the main building among the tropical jungle foliage.
Bedroom 10: The ideal accommodation for those who truly love nature, with a sweep around balcony terrace overlooking the beach and bay through the trees. Located below the main building and just steps from the main living room. 2 Queen Beds
Bedroom 11: This room joins bedroom 10 by the balcony but can be secured off.  This is the 2nd smallest bedroom at Villa Verano. 1 King Bed
BEACH HOUSE
This is a complete home with a spacious one bedroom, king size bed, bathroom with a magnificent view, dressing room, laundry, gourmet kitchen, office area and a guest powder room.  The dining terrace outside the living room has a gas fire barbeque.  One of the most spectacular views in all of Puerto Vallarta and has a private swimming pool. 1 King Bed.
All accommodations are air conditioned, have marble, terrazzo or imported tile floors.  All in suite bathrooms have enclosed private showers and toilet closets.
VILLA ROMANTICA – ROOM 1, 2 & MARTER BEDROOM
Commanding one of the most spectacular views on the Mexican Riviera. While you dine, you can look up the coast, as well as down the famous "gold coast," truly one of Mother Nature's "finest dining rooms." Daily housekeeping, your personal grocery shopper, on call chef, spa services, and a full-time concierge.
Beach Club Puerto Vallarta & Villa Verano is a private resort located in Puerto Vallarta, Jalisco, Mexico. And we intend to make it our place for 8 splendid days, all-inclusive, all-included. Where we will be pampered with the best service Concierge Travel has to offer. Private Chefs cooking you the best meals and dinners at the Ocean view terrace or pool-side, specialized bartenders ready to serve you anything you feel like from beer to wine to even coffee, unique entertainment, best massages in town, and local activities. Puerto Vallarta Beach Club and Villa Verano provides world-class amenities  such as fully air-conditioned luxury villas, a club house, fitness center, and  personalized beach service, making this a truly unique and private paradise.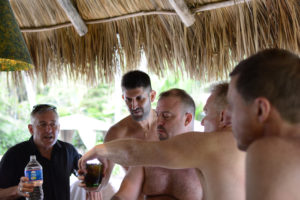 With 8 days to enjoy this beautiful paradise, we'll be pampered with full inclusive services from meals and ocean view dinners, to activities only found in Puerto Vallarta but, also gives you the perfect time to go out and discover all the beauty Vallarta has to offer.
Spanning from the road to the beach, the compound offer spacious areas for fun recreation and activities, and one of the largest private pools in Puerto Vallarta. These spacious one to eleven bedroom villas are splendidly decorated in  soothing neutral colors, designed with all the amenities you deserve, including  a private heated infinity pool, state of the art fully equipped kitchen, outdoor  barbeque, and even an attentive house man and housekeeper.
Terms and conditions:
Terms and Conditions Agreement found here.
Villa Verano:
Bedroom 1 – (Garden View 1 King) – $2,800.00 Per Person BOOKED
Bedrooms 2 – (Ocean View 2 Queens) – $2,950.00 Per Person BOOKED
Bedrooms 3 – (Ocean View 2 Queens) – $2,950.00 Per Person BOOKED
Bedroom 4 – (Ocean View 1 King) – $3,200.00 Per Person BOOKED
Bedroom 5 – (Ocean View 2 Queens) – $2,950.00 Per Person BOOKED
Jungle Rooms:
Jungle Room 6 (Partial Ocean View 2 Queens)- $2,800.00 Per Person
Jungle Room 7 (Partial Ocean View 2 Queens) – $2,800.00 Per Person BOOKED
Jungle Room 8 (Partial Ocean View 2 Queens) – $2,800.00 Per Person BOOKED
Jungle Room 9 (Tree House Partial Ocean View 1 King) – $2,800.00 Per Person BOOKED
Casita:
Room 10- (Ocean View 2 Queens) –  $2,800.00 Per Person BOOKED
Room 11 – (Partial Ocean View 1 King) – $2,800.00 Per Person BOOKED
Beach House
(Ocean View 1 King / Private Pool) – $3,950.00 Per Person BOOKED
VILLA ROMANTICA
Bedroom 1 – $2,800.00 Per Person BOOKED
Bedrooms 2 – $2,950.00 Per Person BOOKED
Master Bedroom – $3,200.00 Per Person BOOKED
*All prices are per person based on Double Occupancy*