After over a year of missing out, Atlantis is ready to share an extraordinary experience unlike anything we've ever offered. We invite a very lucky group of guests to discover the joys of an intimate luxury cruise on SilverSea for rates far below our standard Caribbean cruises. It's Silversea for a steal!
And that's the beginning of a week-long adventure that starts in idyllic Barbados sailing to six fascinating and diverse islands – including an extended stay in magical St. Barths. All with the sense of fun and friends that make Atlantis special!
Set sail with 600 privileged Atlantis guests on the luxurious all-Suite SilverSpirit to the most exotic islands in the Caribbean. We're sailing from Barbados to explore and enjoy the beauty of these islands, or just relax and let SilverSea pamper you onboard in style. Enjoy sumptuous cuisine in seven sophisticated restaurants, served in casual elegance. And of course, let us entertain you with a full range of Atlantis signature talent, our friendly hosts, and a few perfectly timed parties. We've created a cruise designed for exploration and relaxation – in the most comfortable environment you've ever imagined.
Silversea is famous for true all-inclusive luxury cruising, where everything from gourmet dining to premium beverages are included in our fares. All with legendary service and a guest to staff ration of 1:1 — the highest in the cruise industry.
One of the great joys of small-ship sailing is to explore destinations beyond the ordinary. We're starting our journey in vibrant Barbados, where brilliant white sand beaches are the backdrop for a sophisticated and inviting culture. Explore the 18th century town of St. Georges, Grenada, where red-tiled roof building dot the hillside of an ancient volcanic crater. Tiny Bequia's idyllic and mostly deserted beaches are just the beginning of one of the most charming islands in the world.
Step into a little corner of France on the lush island of Martinique. Our extended stay in legendary St. Barts lets you enjoy all the magical beaches, tantalizing restaurants, world-class shops and charming atmosphere of the Caribbean's most famous playground.
We'll then sail to coral reef-ringed Antigua, where endless pink and white beaches give way to fascinating cuisine and welcoming culture. Finally, the dramatic peaks of St. Lucia beckon where sparkling white beaches surround lush rainforests in the Caribbean's most diverse and exciting island.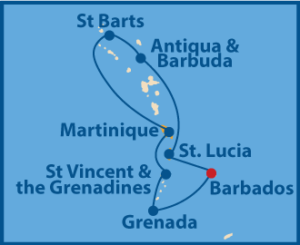 Atlantis has chartered the legendarily lux SilverSpirit for this extraordinary journey, and with 600 guests she's the perfect size for an intimate voyage with great friends. Fully refurbished in 2019 for a superlative onboard adventure, she boasts SilverSea's world famous standards of service and home away from home feel. With one of the highest space to guest ratios anywhere and eight superlative luxury dining options, Silver Spirit offers Atlantis guests a truly remarkable experience from her special decks to intimate spaces, to inviting entertainment venues.
There's nothing like luxury cruising with Silversea and SilverSpirit is their largest and most full-featured ship, sparkling fresh from a substantial re-build in 2019. She's an intimate luxury ship, designed for just 608 guests in an all-suite layout, but with many of the features Atlantis guests love on larger ships.
Spacious decks leave plenty of room for relaxation, yet the cosy niches make sure that there is something for everyone. Meet like-minded friends; enjoy first class dining and relax in what is possibly the best place between sea and sky.
True All-Inclusive Cruising
When you step onboard, you'll enjoy 24-hour gourmet dining, butler service, and premium alcoholic beverages that Silversea is known for. Enjoy a glass – or even a bottle – of champagne, wine, beer, or premium spirits on the house. We'll make sure that you're well stocked with water, juices and soft drinks in both the public bars and your suite. Silversea promises to keep your mini-bar full of your favorite drinks – whether alcoholic beverages (including wine, spirits and mixers) or cold bottles of water for hot, sunny days. Your butler will replenish daily, but if you want a little extra, simply ask and they'll make sure you get exactly what you want.
Silvesea is the only cruise line in the world to include butler service in every suite, in every category. A staff-to-guest ratio of nearly one to one ensures that your every wish is fulfilled with precision, from the concierge who can customize your voyage to the butler who serves your breakfast in suite. And you never have to worry about tipping onboard, since all gratuities are included, of course!
Start (or end) your day on the luscious and welcoming pool deck where bubbling whirlpools surround a sparkling pool. Silversea's attentive staff is always ready with an oversized towel or your favorite drink at just the right moment.
When you're ready to relax, the Zagara spa is a sanctuary of pure bliss with sweeping sea views, nine treatment rooms, relaxation areas, and a dedicated outdoor whirlpool. Invigorating therapies include massages, facials, body wraps, and more. Or stop by the fully equipped fitness center for a workout.
Sensational Dining Included
Dining is a highlight of any Silversea cruise, and SilverSpirit offers eight distinctive restaurants to enjoy at your leisure.
La Terrazza offers an incredible selection of Italy's best cuisine. Enjoy buffalo mozzarella from Naples, organic balsamic vinegar and olive oil from Umbria, and air-dried ham out of Parma. The Emilia-Romagna region produces Silversea's 24-month aged Parmigiano Reggiano, while the pasta is made daily right on board. Open for casual, buffet-style breakfast and lunch, and during the evening transforms into an à la carte traditional Italian restaurant.
Atlantide is an elegant bar and grill incorporating the best that the sea has to offer. Featuring dishes such as royal crab, blue lobster, and verbena infused red snapper in a salt crust alongside the best steaks on the high seas.
Seishin takes it's name from the Japanese translation for Spirit, featuring dishes based on natural, seasonal flavors and the freshest possible ingredients. Seishin finds its inspiration in Nikkei Cuisine – a fusion of flavors of the freshest the oceans and fields have to offer.
The Grill features lava stone cooking at its finest, inviting guests to cook directly at your table on a volcanic 400c rock for a dinner that's literally prepared to your own personal taste. At lunch The Grill becomes a gourmet salad and burger bar.
Indochine evokes a sense of exotic mystery with an Asian-accented menu that invites you on an exquisite journey of culinary discovery. Unlock the hidden treasures of the spice markets of Mumbai, whet your appetite with the exoticism of Thailand and temper your taste buds with the cuisine of Vietnam. All in a stylish restaurant that pays homage to its delectable cuisine.
Spaccanapoli plays homage to Silversea's Italian heritage with authentic and delicious pizzas prepared in true Neapolitan tradition.
Silver Note is the perfect place to dine, dance, and dream the night away with small plate tapas-style international dishes designed to compliment the lush supper-club setting. Filled with superb Atlantis cabaret stars, of course!
La Dame is the highest expression of excellence of French dining that Silver Spirit has to offer.  Indulge in an evening where fine wines are complemented by a set bespoke menu of regionally inspired dishes in an intimate, elegant setting. It's an extraordinary six-course experience celebrating the world's most distinguished wine regions.
All restaurants are available to all guests with no extra charge except for La Dame ($60) and Seishen ($40). As with all Atlantis cruises there's never a formal dress code or assigned dining time and we offer a multitude of ways to make new friends at every meal.
Our Stars Shine Here
Even though Silver Spirit is an intimate ship, she has some thoroughly inviting spaces for entertainment, featuring the best of Atlantis cabaret stars up-close. The Venetian Lounge hosts our evening entertainment and production shows in a theatrical setting.
We'll present Atlantis piano stars and live music in La Dolce Vita – the heart of Silver Spirit and the perfect place to wind down with friends new and old. Featuring an incredible array of flawless cocktails, wine, and spirits.
And as the night winds down, drop into the Panorama Lounge for some live music, Atlantis' DJs playing your favorites, and a few surprises.
All guests will be pampered by the services of an attentive butler, sailing in luxurious style. For a truly personal experience, customize your suite with an abundance of optional amenities. From toiletries and personalized stationery to a bar with your favorite wines and spirits, Silversea offers only the finest comforts in luxury cruise accommodation. You can even enjoy dinner in-suite served by your butler, and choice of pillows. No matter which room you choose, Silversea's suites are your home away from home.
Every suite features a comfortable living space, meticulous attention to detail, and a generous expanse of amenities, and most feature floor-to-ceiling glass doors open onto a private veranda.
There are currently no extensions for this trip.
Eight unique restaurants offer some of the finest dining at sea, and unique experiences – all included of course. Atlantide celebrates the finest the sea has to offer in a classically inviting setting. The Asian-accented Indochine takes you on a journey of culinary discovery in an elegant and stylish restaurant. Indulge in the finest French cuisine at La Dame, where an extraordinary 6-course experience wine pairing awaits.
Discover some of Italy's best flavors at the indoor/outdoor La Terraza. Share a delicious pizza at Spaccanapoli, or enjoy a casually healthy meal at The Grill. Or indulge in small plates served tapas-style at Silver Note.
Options abound, and of course there's never a dress code or assigned seating with all Atlantis cruises.
Legendary Entertainment Up Close
We'll present best in Atlantis signature entertainers along with a few surprises in the intimate showroom. Later on, try your luck in the intimate casino or meet friends over drinks and music at our very own piano bar. No matter what your taste, we'll keep you entertained throughout.
In keeping with this cruise's tone of exploration, relaxation, and friendship we'll produce a few special t-dances and a unique nighttime party or two. All perfectly designed to enhance your SilverSea experience.
A Once-in-a-Lifetime Experience. And Amazing Value.
This remarkable journey through the exotic Caribbean is unlike any other created by Atlantis, designed exclusively for our most loyal guests. Intimate, original, and unique in every way, yet with all the fun you've come to expect from our vacations.
Best of all, we're thrilled to offer our first voyage on Silversea at an extraordinary rate that's substantially lower than their retail pricing. It's our way of saying thank you for supporting us for the past 30 years – and to share a great time!
We invite you to explore these exotic islands in the company of great friends next year as we continue our 30th Anniversary season with the most luxurious Atlantis cruise in our history!
Prices starting at $2,899.00 – $9000.00.
Please contact us directly at kim@conciergetravel.cc or (713) 253-0244 to get real-time availability of cabins.