Experience the majesty of America's 49th state in a way that's only possible by ship. Cruise alongside a pod of orcas, watch in wonder as glaciers calve before your eyes, discover a convocation (that's right…a convocation) of bald eagles in mighty spruce trees, take in the unspoiled beauty of the Inside Passage, and spy Alaska's bears feasting on bountiful wild salmon.
Experience the majesty of America's 49th state in a way that's only possible by ship. Cruise alongside a pod of orcas, watch in wonder as glaciers calve before your eyes, discover a convocation (that's right…a convocation) of bald eagles in mighty spruce trees, take in the unspoiled beauty of the Inside Passage, and spy Alaska's bears feasting on bountiful wild salmon.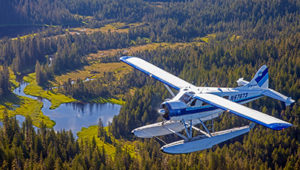 Adventure awaits at every moment! You can sea kayak through calm waters or hike trails filled with fascinating wildlife. One thing we can guarantee is that virtually everything will take your breath away!
The wonders don't stop with the Alaskan scenery. We're pulling out all the stops this summer with our all-star lineup of RSVP signature entertainers along with some stellar new talent. Oosterdam's two-story theater hosts RSVP mainstage singers, comedians, drag performers, and some dazzling production shows. In the intimate Queen's Lounge, you'll enjoy our original cabaret acts and drag performers. Grab a drink and cozy up to a classic piano star in Billboard Onboard. Or better yet…try your luck at the friendly casino.
Holland America Oosterdam
There's no better ship to explore Alaska than on Holland America's Oosterdam, one of our favorite ships. From abundant balcony staterooms to inviting entertainment venues, and from the delicious Pinnacle Grill to the ship's world-class spa, you'll discover the perfect way to relax in style after an active day. And her retractable pool deck roof creates the perfect place to enjoy RSVP's legendary T-Dances and nighttime parties.
When you do finally return to your stateroom, you'll discover a quiet, elegant retreat, with rooms larger than most in the industry. Many feature private verandahs and all boast modern amenities, including flat-screen televisions with DVD players, large bathrooms (many with tubs), luxurious beds with Sealy Premium Euro-Top mattresses and finely woven cotton linens, and 100% Egyptian cotton towels.

This luxurious suites offer in-room whirlpools, spacious sitting areas, access to the private Neptune Lounge (suites SC and above), and much more.
Let Holland America's legendary service staff take care of your every need, with a friendly staff that's just a phone call away. It's their smiles and friendly attitude that create a modern cruise experience that's fresh and appealing and yet both timeless and refined.
DINING YOUR WAY
The exceptional Holland America culinary staff offers sophisticated and delicious choices in a variety of enticing venues. Whether you're looking for a casual meal poolside, a romantic elegant dinner with your partner, or a celebratory feast with friends, there's always something to satisfy your taste and style.
As with all RSVP cruises, there's never an assigned table, dress code, or dining time. You're always free to dine when and wherever you'd like and with whomever you'd like. And our friendly team is always on hand to assist in seating with friends old and new.
 Included Options
The impressive two-story Dining Room is the perfect place to enjoy a relaxing dinner with friends. With windows on three sides, a grand stairway, and an elegant atmosphere, it's the perfect setting for our fresh, multi-course meals prepared by Holland America's expert chefs.
Casual options abound, starting with the indoor/outdoor Lido Restaurant which offers an ever-changing selection of freshly-prepared dishes to suit any appetite. From grilled paninis to sushi and barbecued chicken to fresh salad options – whatever you're in the mood for, the Lido is ready to please at breakfast, lunch, and dinner. For a great poolside burger or snack, check out Dive-In.
If an entire day of activities leaves you wanting something more, you can always order room service, too – available 24 hours a day and free of charge
 Specialty Restaurants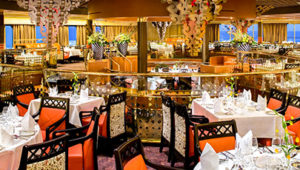 For a more elegant affair, visit The Pinnacle Grill for a sophisticated meal featuring sterling silver, premium beef, and fresh seafood. All matched by a selection of wines rated "Excellent" by Wine Spectator.
The award winning Canaletto serves rustic Italian fare in an upbeat family-style setting, focusing on fresh made pastas and other fabulous specialties. It's a great place to meet friends and take in the scenery along with the food.
Please note an extra charge applies for The Pinnacle Grill, and Canaletto.
Healthy Options & Special Needs
For our guests with special dietary needs, we offer "Light and Healthy" menu items featuring meals low in sodium and cholesterol, vegetarian, vegan, gluten-free, fat-free, diabetic, or other special dietary needs meals, as requested.
INCREDIBLE ENTERTAINMENT SPACES
Oosterdam's wide variety of entertainment venues offer more places than ever for the RSVP style of cruising, along with plenty of welcoming lounges to meet your friends in style.
Start with The Mainstage Show Lounge – the focal point of any RSVP cruise. This fabulous 1000-seat two-story theater showcases signature entertainers, lavish production shows, and unique variety performances.
The Culinary Arts Center presented by Food & Wine Magazine features a state-of-the-art demonstration kitchen offering interactive gourmet cooking lessons taught by Holland America's Master Chefs. At night this space becomes the Queen's Lounge, where we'll host intimate cabaret shows featuring RSVP singers, specialty acts, and more. And on a few nights, we'll transform it into BB King's Blues Club, where musicians bring the blues and beyond to life.
For something more intimate, check out the Crow's Nest, a stunning lounge on the top deck, with sweeping 270° views. Or meet friends in our inviting Billboard Onboard, where some of RSVP's legendary piano entertainers will dazzle you every night. There's even a screening room offering the best of first-run movies and unique gay cinema. Feeling sporty? Don't miss the big game in our lively Sports Bar.
SANCTUARIES TO RELAX
Whether you want to enjoy some private time outdoors or spend the week in a spa stateroom, Oosterdam offers a fantastic selection of choices for total pampering and relaxation.
The modern central pool features plenty of space to relax, swim, and play, with comfortable chairs and loungers everywhere you turn. There's even a retractable "magradome" roof that can be completely closed – perfect for Alaska! Step outdoors to the aft deck to enjoy Oosterdam'sbeautiful Sea View Pool surrounded by massive teak decks.
When you're ready for some pampering, the Greenhouse Spa offers a variety of heavenly beauty and wellness rituals. Enjoy a facial, a hot stone massage, a steam in the thermal suite, or sooth away your tensions in the relaxing hydro pool. If hiking glaciers wasn't enough activity, drop in for a workout in the state-of-the art fitness center, featuring a full set of weight equipment, modern cardio machines, and a variety of challenging classes.
This incredible adventure has no adds on.
From gay-friendly and convenient Seattle, you'll sail to Alaska's capital city, Juneau. Beyond the mix of cosmopolitan chic and frontier ruggedness, discover one of Earth's true wonders – Mendenhall Glacier. Whether you admire the glacier's glory from afar, explore the ice on foot or by dogsled, or soar over the crevasses in a helicopter, we know you've never seen anything like it. As we sail up close to majestic Hubbard Glacier, we'll cruise past ten tidewater glaciers, endless snow-capped mountains, and dazzling deep fjords. It's a great privilege to sail these protected waters as only a few ships are allowed in each year.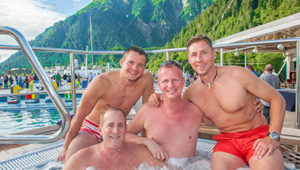 You'll awake the next day to the island-studded waters of Sitka, one of Alaska's most authentically rustic towns. From its rich Russian heritage to non-stop adventure, Sitka offers plenty of choices between hiking, kayaking, whale watching, or simply taking in the town's charm. Our morning in Ketchikan presents the option of floatplaning through Misty Fjords, exploring the world's largest collection of totem poles, watching the salmon run from the famed red Creek Bridge, or even snorkeling.
Finally, picturesque Victoria provides the perfect ending in the "City of Gardens." Our evening visit invites you to discover the city's vibrant entertainment and nightlife scene with friends old and new.
FRIENDLY PARTIES DESIGNED FOR YOU
For 34 years, RSVP has created memorable parties featuring the music you love to hear! Start with our sparkling afternoon T-Dances, filling your day with upbeat and playful party themes. Nights dazzle with more ways to have fun with friends than you ever imagined, with themes ranging from the silly to playful and everything in between!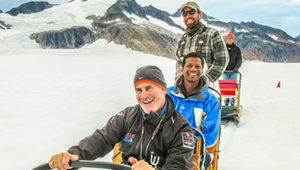 We bring together friends from all walks of life to celebrate the magical diversity of our community. There's never been a better time to join the RSVP family than in Alaska. We've worked hard to bring you amazing value wiht low fares starting from just $899! It's a lowest price ever for Alaska, making it easier than ever to enjoy all the entertainment, parties, and incredible friends that make this adventure soo great.
We invite you to let RSVP and Concierge Travel show you Alaska our way – a new place where you belong.