About the Trip
OCTOBER 4 – 10, 2020
Completely reinventing the all-LGBT all-inclusive resort experience with the 5-star UNICO Riviera Maya, redefining all-inclusive means creating an entirely new kind of immersive experience, one that offers an unfiltered view of modern Mexico and a deep connection to this magical region.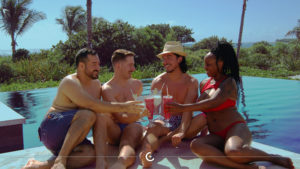 Oasisat UNICO is a one-of-a-kind adults-only, all-inclusive vacation experience. Are you ready?
The resort, now one ofThe Leading Hotels of the World, was born out of a desire to create an entirely new category of all-inclusive – one defined by relaxed luxury and cultural immersion. At UNICO, you'll meet modern Mexico face-to-face and experience rare access to the region's most exciting locales and lesser-known wonders.
Location is at the heart of the experience at UNICO, with the ambition to immerse guests in the region's beauty and culture. Through a staff of local experts, guides, artisans, and specialists, we are able to showcase the true heart of the Riviera Maya.
Spots at UNICO
MI CARISA
This restaurant is a love letter to the romantic coastlines and flavors of the Mediterranean. UNICO's most elevated dining experience, Mi Carisa focuses on the traditions and practices of coastal Italian cuisine. That culinary heritage is most deeply honored in the form of a beautiful wood-burning oven, imparting a smoky flavor to everything that passes through it. The warm, intimate setting lets each bite convey a sincere affection for the coastal Italian kitchen.
RESTAURANT 20.87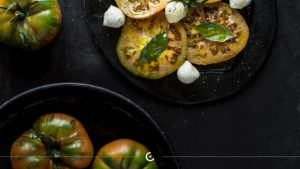 Incorporating the hotel's coordinates into its name,this casual beachside venue aims to capture the heart of UNICO. The 20.87 dining experience shifts throughout the day: from a bountifully diverse morning buffet – think fresh juices, eggs to order, and house-baked Mexican pastries – to an ever-revolving selection of international favorites for lunch, and classic grilled choice cuts of steak and fish in the evenings.
CUEVA SIETE
Named for the seven origin caves of Mayan mythos, Cueva Siete – or Cave Seven – derives its inspiration from all that is Yucatecan. This regionally-focused concept aims to harness the mysticism and reverence of Mayan culture, serving dishes rooted in Mexican flavors and traditions. UNICO's mixologists offer tantalizing pre-dinner drinks here at the restaurant's comfy bar.
CAFÉ INEZ
Café Inez is UNICO's own take on European café culture: an important social gathering setting, often a stopping off point in between activities. A way to refuel, rejuvenate, and recharge. Fresh juices, coffee, tea and baked goods are served in the morning while the menu transitions to sandwiches, paninis, and meal-sized salads for lunch and dinner.
MURA HOUSE
While Mura House draws flavors and techniques from throughout Asia, with a concentration on Japan, its cuisine is guided by three principles: the harmony of flavor, precision through preparation, and quality of ingredients. The restaurant aims to achieve a balance between tradition and uniqueness by bringing together three different styles of Japanese cuisine – teppanyaki, yakitori, and sushi
PALMERA LOUNGE
When Prohibition took hold, the thirsty took off. Many of the best bartenders left for Cuba and the vibrant lure of its nightlife, triggering a Cuban cocktail renaissance. There was glamour, plenty of local rum, and world-class cigars. Palmera Lounge picks up where this intoxicating storyline leaves off: a new take on the classic, high energy Cuban clubs of the 40s with expertly crafted cocktails, bright, inviting design, boisterous live entertainment, and a cigar bar.
BAR BALAM
Bar Balam is UNICO's day-through-night cocktail bar, radiating warmth, while calling to mind the mystique of hidden-door cocktail dens of yore. Balam (which translates to jaguar in Mayan) is a powerful spirit in the ancient Mayan tradition – a divine symbol of strength and a protector of fields. This sense of strength and boldness infuses the drinks which present an insightful Mexican take on classic cocktail tradition.
THE ESENCIA SPA
UNICO's holistic fitness program is designed to adapt to your personalized routine. The resort offers personal training sessions, meditation and yoga, beachfront classes, and a state-of-the-art gym. A full schedule of classes and fitness activities will be available to you through the UNICO app, downloadable from the App Store.
The full-service Esencia Spa caters to body, mind, and spirit through a range of luxury spa treatments, UNICOsignature treatments, and locally-inspired beauty rituals. A fully-equipped hydrotherapy facility and a wide variety of natural ingredients help create an immersive relaxing environment.
UNICO has redefined the all-inclusive experience by offering the unexpected. Your stay includes select spa and beauty salon treatments*plus all the amenities of a luxury boutique hotel, combined with the comfort and convenience of an all-inclusive.
A session at UNICO's full-service beauty salon or barber shop can be booked via appointment once you arrive at the resort. A manicure or pedicure at the salon is an ideal afternoon indulgence, while the barber shop offers its own kind of relaxing luxury between the complimentary beer and bourbon cart, and large, wall-mounted flat screen TV.
At UNICO Riviera Maya we embrace the local, from the food and drink, to the spa treatments, to a selection of curated adventures. There is no lack for comfort, with custom bath amenities, a fully equipped fitness center, 24-hour room service, and a personal Anfitrión – replacing the traditional butler – to serve as your local host. It's a completely new standard for the all-inclusive all-LGBT+ vacation.
Anfitrión Service brings your experience to the next level with the following services: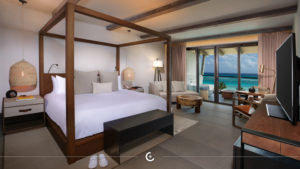 Insider's guide into the local scene—from hard-to-get reservations to the best-kept secret spots
Assistance with check-in and check-out
Late check-out requests
Restaurant reservations
Tours, golf, and spa reservations
Planning special events or occasions
Packing and/or unpacking, shoe shine, ironing, and steaming services
Laundry service
Cleaning and maintenance requests
Spa tub preparation
Bag pick-up at check-out
Mixology program
Pillow menu request
MAYAN VILLAGE & TANKAH CENOTES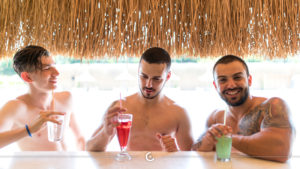 Swim, canoe, zip line, take in the sights, and get a taste of the local culinary offerings. Arrive at Tankah and enjoy a snack of seasonal fruits before heading out to "The Cave and the Piranha" cenote. After a relaxing swim, walk to the Naval Cenote where you'll grab a canoe and paddle past the beautiful scenery. Finally, take a dip and cool off at the "Cenote Azul" before having a meal of traditional Yucatecan specialties.
MYSTICAL CENOTES
Discover some of the most stunning natural wonders of the Yucatan peninsula – the extraordinary cenote. Cenotes are natural sinkholes that have exposed the groundwater underneath, and make for a refreshing and exhilarating subterranean swim. Explore natural underground pools with crystal-clear waters in the heart of the jungle. Swim through caves and tunnels where the impressive stalactites and stalagmites will leave you breathless. Duration is 2.5 hours.
SUNSET SAILING & VINO
Experience an enchanting sunset on this sunset sailing excursion. Sail along the stunning Riviera Maya coastline aboard a luxurious catamaran. Relax with a cocktail in hand from the open bar, and feel the breeze in your hair as you nibble on delicious canapés. Finish off the evening with a glass or two of your preferred wine. Duration is 2.5 hours.
CURATED TULUM
Embark on a guided visit to the magnificent ancient ruins of Tulum. This thirteenth-century archaeological site is full of both natural beauty and man-made splendor. After learning about Mayan culture, grab some lunch and maybe a few specialty drinks at a beach club. Then take things below sea level with a snorkeling trip at the "Los Cañones" reef. Equipment provided.
MUYIL ARCHAEOLOGICAL RUINS
One of the earliest and longest inhabited ancient Maya sites, Muyil was once a busy Caribbean trade route for jade, chocolate, honey, and salt. This tour takes guests through the ruins, along two lagoons, and into the jungle
ALL-INCLUSIVE REDEFINED
OCT 4-10, 2020 ALL-INCLUSIVE 5-STAR UNICO 20°87°
Can you feel it?!? That's the INCREDIBLE BUZZ that's been building since the end of 2019 Mexico Resort vacation at UNICO 20°87° in Riviera Maya! VACAYA completely reinvented the all-LGBT+ all-inclusive resort experience in 2019 and the response was so off-the-charts great that they're doing it all again in 2020! And The Vacayans are ready to make UNICO 2020 BIGGER, BETTER, and BOLDER than you can possibly imagine!
All-inclusive resorts offer an amazing value for any cost-conscious traveler, but UNICO takes those inclusions to a whole new level. Gone are the days of simply including food and drinks. VACAYA Oasis' partnership with UNICO literally breaks the mold and sets an all-new standard in value.
Couldn't be happier to offer you the following inclusions:
All meals, with 5 unique dining experiences, each offering up a menu inspired by local provenance
UNICO 24-hour in-room dining allows you to create custom meals and order through the convenient UNICO Riviera Maya App.
An extensive, expertly-curated selection of spirits, accented by a mixologist-driven cocktail program. Premium spirits orderedby the bottleincur an additional charge.
A selection of fine house wines/champagnes by the glass
A hearty list of select Spa Treatments*(you read that correctly…SPA TREATMENTS!)
Select Salon Services*(fancy a mani/pedi or haircut while you're here? Yes…included.)
Select Tours and Adventures*
Unlimited rounds of Golf*on UNICO's award-winning course
SCUBA Diving Experiences*
Unlimited use of UNICO's non-motorized Water Sports Equipment
UNICO'S holistic fitness program offers meditation and yoga, beachfront classes, and a state-of-the-art gym
Unlimited long distance telephone calls to the continental USA and Canada
Complimentary high-speed WiFi, both in-room and resort-wide
*You pay only a 25% service fee for selected inclusions. Think of that service fee as a built-in gratuity for the service. Each inclusion has a set retail price from which that 25% service fee is calculated. For example, if you choose a 50-minute massage with a retail price of $180, you'd pay only a $45 service fee for that treatment. An $80 excursion? You'd pay only $20.
Included Features
GUIDED TOUR OF CHICHEN ITZA & CENOTE
Admire one of the Seven Wonders of the World on a trip to Chichen Itza. Enjoy a guided tour of the archaeological site and learn about famed Mayan buildings like the Kukulcan pyramid. Also included is a tour of the Ecotourism Center. The trip ends with a refreshing a swim in a cenote followed by a tasty meal of local Yucatacan food. Entrance to sites and center included. Drinks are not included.
SWIM WITH THE DOLPHINS
This is a great opportunity to have a close encounter with these beautiful mammals. Get to know the dolphins better, and choose from six different interactions, including kissing, hugging, swimming, or even just waving at the dolphins. Equipment provided.
GARRAFON NATURAL REEF PARK
Nature lovers will be enchanted by the exotic Garrafon Natural Reef Park, situated on the southern point of Isla Mujeres. The reefs, cliffs, and breathtaking views of the Caribbean Sea will leave you spellbound. You'll have access to the VIP Lounge, which includes a premium open bar, buffet lunch, a pool, Jacuzzi®, lounge terrace, and restaurant. It's the perfect spot to relax after exploring. Equipment provided.
DINE & SAIL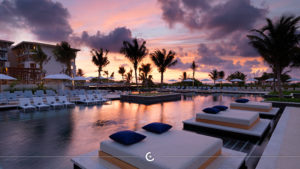 Underneath the moon and starlit sky, soft saxophone melodies and the whispering waves of the lagoon set the tone for a romantic evening aboard the Colombus Galeon. After a savory three-course dinner, take a stroll around the lagoon while sipping a cocktail or two from the bar.
COBA & TULUM
Enjoy a mix of history, nature, and seascapes around Tulum, one of the most unique areas in Riviera Maya. The journey takes you through Coba, and its thick Yucatan jungle as you discover the mysteries of one of the last areas occupied by the ancient Mayans. The archaeological site is considered one of the most impressive in the world. Feel, touch and experience a storied part of ancient Mexican history. Drinks not included.
SELVATICA EXTREME CANOPY
Head out aboard an army truck to Selvatica Extreme, the longest and fastest circuit on the peninsula, boasting 12 different high-speed zip lines. After gliding between treetops on a canopy tour, enjoy the crystal-clear waters of a nearby cenote where you can swim and even do a little more zip lining. Afterward, enjoy a lunch of popular local dishes and aguas frescas, a refreshing Mexican staple. Equipment provided.
XTREME SNORKELING
Enjoy a unique snorkeling experience exploring an underground river deep within the jungle. Before snorkeling though, take a thrilling zip line ride above the jungle canopy, finishing with a rappel down into the jungle near the river. As you snorkel through the underground river you'll see nature's fascinating course up close. Recharge after with a lunch of local food and drink before you return. Climbing and snorkeling equipment will be provided on site.
XTREME MAYAN JUNGLE TOUR
Get dropped off deep within the Mayan jungle, and experience it from above with an exciting zip line ride over the canopy. At the end of the line, rappel into the jungle to see one of its most striking features: a freshwater underground river. After swimming through a series of awe-inspiring underground caverns, enjoy a lunch of local cuisine before heading back. Equipment will be provided on site.
The gorgeous and well-appointed rooms of UNICO fall into several key categories, detailed below. Pricing for the various room types is based on the following:
Location within the resort (the rooms closest to the ocean are at the higher end)
Location within each building itself (rooms on the second floor are priced more economically)
Preferred rooms are those on Floors 3, 4, and 5 in each of UNICO's 8 buildings
Premium rooms are those in Buildings 2 & 7
PURE® rooms are specifically designed and maintained for allergy sufferers
Click Here for pricing info