Wonder of Wonders! Miracle of Miracles! VACAYA's 2023 Ancient Wonders Cruise is one for the history books… literally. For the first time in LGBT+ travel history, you'll have the chance to see the best of the best of the wonders of the ancient world – all in one extraordinary 10-night luxury adventure! From Aqaba, Jordan where Petra awaits, we sail PONANT'S 5-star Le Jacques Cartier to Egypt for The Great Pyramids and The Sphinx, then on to Israel for the Holy Land's best (with an overnight there), then to Cyprus, and on to Greece, where we'll visit all-new ports of call – Rhodes (where the Colossus once stood), Folegandros, Nafplion, and finally Athens, where the striking Parthenon waits to greet you! 10 Nights. 5 Countries. Endless adventure.
5-STAR LUXURY WITH PONANT
This 11-day itinerary combining history and archaeology will take you from Jordan to Greece. During your cruise, Le Jacques Cartier will visit several unmissable sites between the Red Sea and the Mediterranean Sea. After your embarkation in Aqaba, Jordan's only port, you'll reach Ain Soukhna, the gateway to the Great Pyramids of Egypt. A security detail will ensure your visit to these incredible Egyptian sites will be without issue. You'll cross the world-famous Suez Canal, built by Ferdinand de Lesseps. Then on to Ashdod, Israel – gateway to Tel Aviv and Jerusalem. We'll spend two full days and an overnight in Israel, giving you the chance to see the incomparable sites of The Holy Land. From there, we sail on to Limassol, Cyprus, where multiple UNESCO World Heritage Sites await your discovery. Then, we hit the home stretch with three island stops in Greece, finally ending in Greece's capital city, Athens.
Incomparable Luxury on the 5-Star Le Jacques Cartier
Boasting 92 finely-appointed staterooms and suites, Le Jacques Cartier is one of 6 identical Explorer-class ships from PONANT. The ship gives you a unique yacht-like cruising experience thanks to her cutting-edge design, environmentally-friendly equipment, smaller size, and subtle blend of refinement, intimacy, and comfort.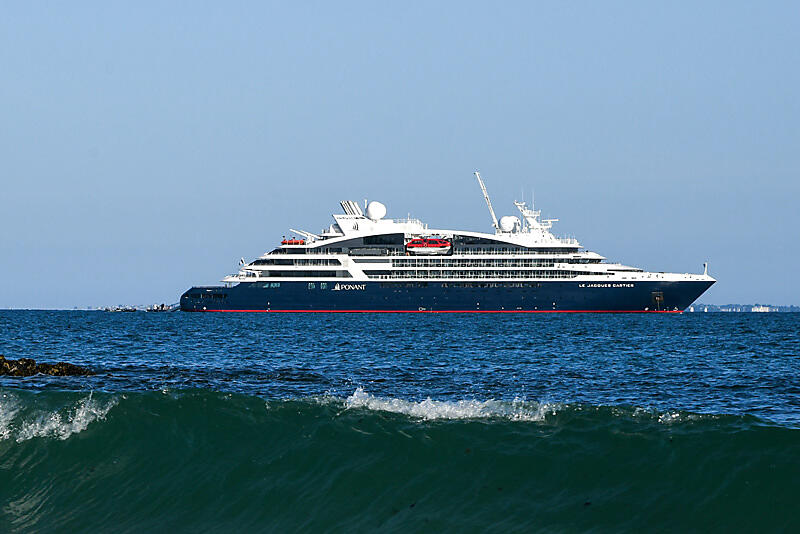 AFT MARINA PLATFORM (Deck 2)
– The aft marina platform serves as a launch for tenders and water sports activities.
BLUE EYE (Deck 0)
– Located below the waterline, Blue Eye is the first ever multisensorial lounge, offering a unique experience: the opportunity to enjoy undersea views and the sounds of the marine world while sharing a drink together.
MAIN RESTAURANT (Deck 4)
– Located aft, prepare to indulge in delicious cuisine with a decidedly French flair.
GRILL RESTAURANT (Deck 3)
– An exterior grill restaurant offers a relaxed ambiance and atmosphere.
PANORAMIC LOUNGE (Deck 6)
– Located high atop the ship, this lounge offers 180-degree views overlooking the ship's bow.
MAIN LOUNGE (Deck 3)
– A perfect place to relax during the day and join VACAYA Piano Bar Sing-Alongs at night.
EXCURSION DESK (Deck 3)
– Find information and book optional excursions and activities.
THEATER (Deck 3)
– Both PONANT and VACAYA entertainers bring this beautiful venue roaring to life.
GYM (Deck 7)
– The ship features a well-equipped gym with panoramic ocean views.
L'ESPACE BIEN ENTRE SPA & HAMMAM (Deck 7)
– Relax those muscles with a massage or in the thermal sauna with friends.
POOL (Deck 3)
– A heated swimming pool offers panoramic views and is equipped with an exterior bar and lounge with armchairs and sofas.
THE SUPER YACHT ADVANTAGE
The upside of going on smaller vessels like the super yachts of PONANT is that you can visit seaside cities and towns that don't have ports or harbors constructed with enormous ships in mind. This allows you to get right to the heart of the culture of your chosen destination, and you won't find yourself hampered by all of the Duty-Free outlets that characteristically dominate the larger ports. It's one thing to explore a busy and thriving metropolis. It's quite another to witness the extraordinarily intimate atmosphere of a smaller port of call. And with smaller vessels, you don't have to worry about missing out on larger ports; we can go to those, too! So you'll enjoy plenty of variety during your journey with VACAYA.
Look for this symbol within the itinerary section of The Overview page to understand which ports are exclusive to smaller ships.
STATEROOMS
Elegantly-designed staterooms and spacious suites boast a warm contemporary interior design by Jean-Philippe Nuel. The designer took direct inspiration from the destinations and cultures explored during PONANT's stopovers and then punctuated the design with beautiful ethnic touches. Every stateroom onboard boasts a lovely veranda, open minibar (replenished as needed), and unlimited WiFi access, and 24-hour room service. Select suites offer even more luxuries including butler service to tend to your every need including unpacking and repacking upon request. See pricing page for specifics.
POOL & NATURE VIEWING DECK
The ship's heated pool offers a panoramic view of our surroundings and is equipped with a counter-current swimming system for those who wish to maintain their lap swimming regimen while on vacation (or show off your physical endurance for the entire shipboard community). This is THE spot for daytime relaxation. There's also an outdoor bar and loungers, chairs, and sofas, perfect for our organized events and parties or simply meeting up with your friends.
3-POSITION MARINA
Imagine diving off of the ship while docked inside a tranquil cove on a warm sunny day. A fully-equipped sundeck and 3-position marina allow access to the sea for swimming and water sports. A submersible mini-port, an original and unique concept, enables direct access to the ship's tenders, kayaks, and other watercraft. Just one more Super Yacht Advantage.
RESTAURANTS
On Deck 4 Aft, you'll find the ship's panoramic restaurant, which can accommodate all of us in a single sitting. This dining area, which opens onto the outside, will have a buffet of salads, desserts, and cheeses at your disposal. And the ship's discrete and attentive crew will provide table service for breakfast, lunch, and dinner. For a more relaxed atmosphere, an outdoor grill on Deck 3 serves grilled meats with a variety of salads and desserts. And of course, complimentary room service is available to you 24×7.
BLUE EYE LOUNGE
Blue Eye is a first-of-its-kind multi-sensory underwater lounge built to transport you to the universe under the sea. The designers' mission is to enable you to see and feel the underwater universe in a way that never ceases to amaze. Bathed in deep blue light, the lounge has windows shaped like whale eyes to bring you closer to the marine mammals you'll see and hear behind the giant portholes. Hydrophones pipe in the natural symphony of the sea. The sofas also vibrate softly to the sounds and images of sea creatures are projected onto digital screens, creating a unique, multi-sensory experience of life underwater without getting wet!
LOUNGES & BARS
Different lounges enable guests to socialize and share moments together during their cruise. Our ship features a main lounge, an ideal place to meet over a drink and watch daytime or evening events; the panoramic lounge, an intimate bar with a unique view of the horizon; and the outdoor bar, a relaxation area with access to the pool and solarium. The main lounge can accommodate all guests for VACAYA's social activities both day and night.
THEATER
The theatre seats 188 and is equipped with the latest sound and lighting technology. This will be the showcase venue for VACAYA's all-star entertainment line-up. It's also equipped with an LED wall as the backdrop, allowing for multimedia presentations and destination lectures.
WELLNESS
The Spa offers a series of luxury treatments. Choose from moisturizing facials, relaxing massages, aromatherapy baths, anti-aging treatments, and enjoy a moment of absolute relaxation. There's a salon as well, offering hair styling, barbering, manicures, and pedicures. The spa area includes a lovely sauna that's larger than you'd typically expect on a ship this size. With a window facing the outdoors and long curvy benches, it's an enticing retreat after an active expedition. The Fitness Center, boasting picture-perfect views of the open sea, features the latest Technogym machines including a Kinesis Wall.
RECEPTION
The ship's common areas are designed and equipped to meet all your needs while preserving the intimacy of the experience. A luxuriously appointed reception area welcomes guests and fulfills a variety of functions from reception and concierge to excursions and boutiques.
There are currently no extensions for this trip.
THE MUST-SEE JEWELS OF THE ANCIENT WORLD… ALL FOR YOU!
EXPLORE 5 AMAZING COUNTRIES
COUNTLESS UNESCO WORLD HERITAGE SITES
PETRA, THE GREAT PYRAMIDS, THE SPHINX,
THE HOLY LAND, THE PARTHENON
5-STAR LUXURY ON LE JACQUES CARTIER
HISTORY COMES TO LIFE!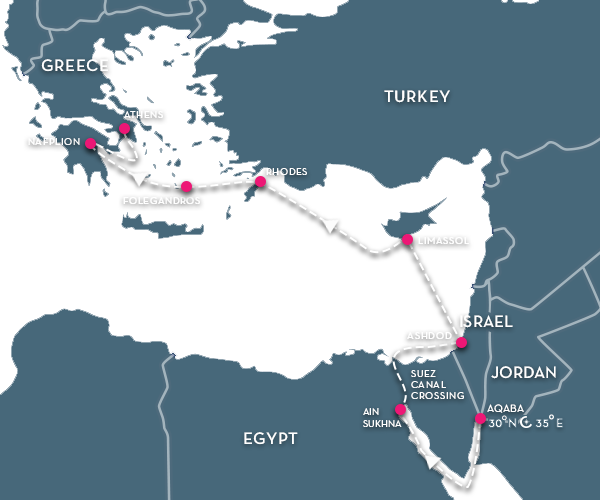 Day 1 | APR 16 | AQABA, JORDAN | Board 3pm | Depart 6pm
Day 2 | APR 17 | AT SEA
Day 3 | APRI 18| AIN SUKHNA (CAIRO), EGYPT
Day 4 | APR 19 | CROSSING THE SUEZ CANAL
Day 5 | APR 20 | ASHDOD (JERUSALEM), ISRAEL
Day 6 | APR 21 | ASHDOD (JERUSALEM), ISRAEL
Day 7 | APR 22 | LIMASSOL, CYPRUS
Day 8 | APR 23 | RHODES, GREECE
Day 9 | APR 24 | FOLEGANDROS, GREECE
Day 10 | APR 25 | NAFPLION, GREECE
Day 11 | APR 26 | ATHENS, GREECE | Disembark by 9am
Prices for this luxury cruise range from $5,997 Deluxe Staterooms to $19,997 Owner Suites – all rooms are limited in availability. Please contact us directly at alan@conciergetravel.cc or +17132530041 for real-time availability of spaces.