For 8 days, VACAYA and Concierge Travel will take you to extreme lands and breathtaking scenery. Glaciers, lava fields, geysers, and steam baths await those with a passion for travel and a love for the finer things in life. Iceland is a destination worthy of all superlatives.
ENCHANTED ICELAND – LAND OF LUMINOSITY
SEP 3 – SEP 10, 2021 – PONANT LE CHAMPLAIN
VACAYA makes history with the first all-LGBT+ circumnavigation (that means we're going all the way around!) of Iceland on the brand new luxurious 5-star Le Jacques Cartier from Ponant Cruises. This is the ultimate voyage of discovery of Iceland and the Arctic Circle – a truly exotic summer adventure on the trail of the Vikings.
For 8 days, VACAYA and Concierge Travel will take you to extreme lands and breathtaking scenery. Glaciers, lava fields, geysers, and steam baths await those with a passion for travel and a love for the finer things in life. Iceland is a destination worthy of all superlatives.
PONANT's Explorer Class
Boasting 92 finely-appointed staterooms and suites, Le Champlain is one of 6 identical Explorer-class ships from PONANT. Le Champlain gives you a unique yacht-like cruising experience thanks to her cutting-edge design, environmentally-friendly equipment, smaller size, and subtle blend of refinement, intimacy, and comfort.

STATEROOMS
92 elegantly designed staterooms and spacious suites boast a warm and contemporary interior design by Jean-Philippe Nuel. The designer took direct inspiration from the destinations and cultures explored during PONANT's stopovers and then punctuated the design with beautiful ethnic touches.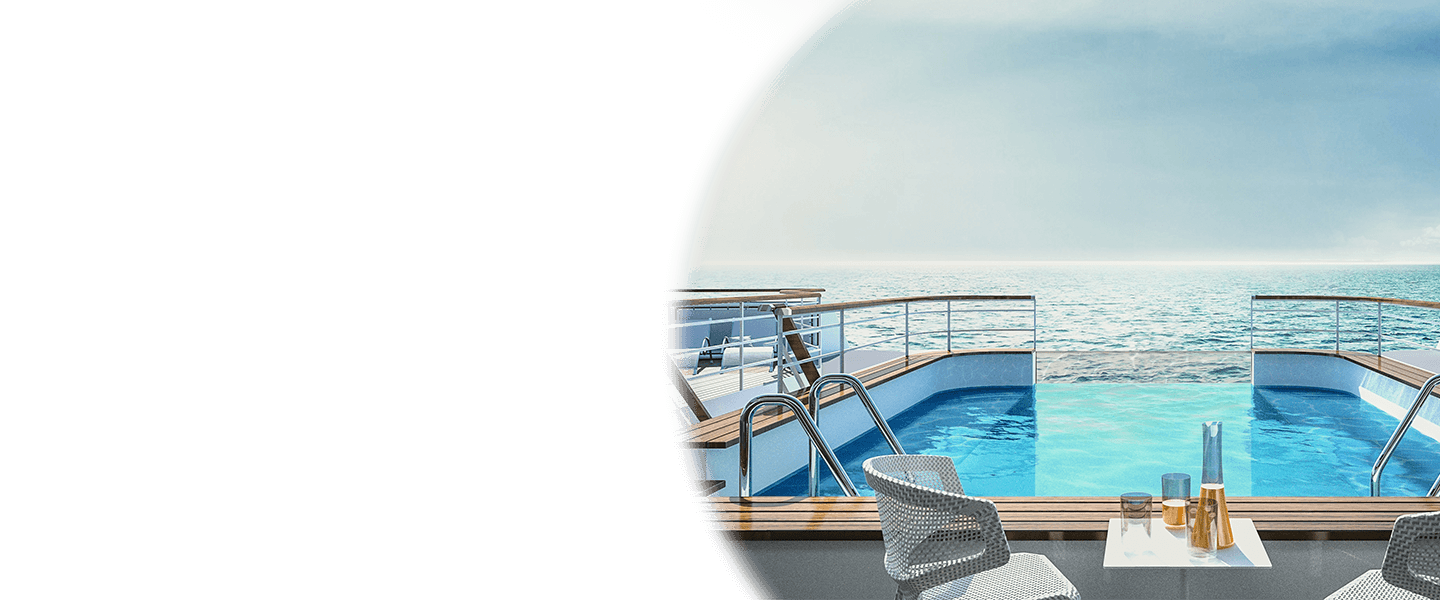 POOL & NATURE VIEWING DECK
Le Champlain's pool offers a panoramic view of our surroundings and is equipped with a counter-current swimming system. This is THE spot for daytime relaxation and nature viewing. There's also an outdoor bar and lounge with armchairs and sofas, perfect for our organized events and parties.

3-POSITION MARINA
A fully-equipped sundeck and 3-position marina allow access to the sea for swimming and water sports (kayaking, paddle board, SCUBA diving, snorkeling, fishing). A submersible mini-port, an original and unique concept, enables direct access to Le Champlain's flotilla of 10 Zodiac®  boats.

RESTAURANTS
On Deck 4 Aft, you'll find the ship's panoramic restaurant, which can accommodate all of us in a single sitting. This dining area, which opens onto the outside, will have a buffet of salads, desserts, and cheeses at your disposal. And the ship's discrete and attentive crew will provide table service for breakfast, lunch, and dinner. For a more relaxed atmosphere, an outdoor grill on Deck 3 serves grilled meats with a variety of salads and desserts. And of course, complimentary room service is available to you 24/7.

BLUE EYE LOUNGE
Blue Eye is a first-of-its-kind multi-sensory underwater lounge built to transport you to the universe under the sea. The designers' mission is to enable you to perceive and feel the underwater universe in a way that never ceases to amaze. The integrated digital screens project the live images from three underwater cameras. An immersive sound experience can be felt in the Body Listening sofas, which discreetly vibrate in harmony with the ocean's natural cycles and brings you closer to the marine mammals you'll see and hear behind the giant portholes.

LOUNGES & BARS
Different lounges enable guests to socialize and share moments together during their cruise. Our ship features a main lounge, an ideal place to meet over a drink and watch daytime or evening events; the panoramic lounge, an intimate piano bar with a unique view of the horizon; and the outdoor bar, a relaxation area with access to the pool and solarium. The main lounge can accommodate all guests for VACAYA's social activities both day and night.

THEATER
The theatre seats 188 and is equipped with the latest sound and lighting technology. This will be the showcase venue for VACAYA's all-star entertainment line-up. It's also equipped with an LED wall as the backdrop, allowing for multimedia presentations and destination lectures.

WELLNESS
The Spa offers a series of luxury treatments. Choose from moisturizing facials, relaxing massages, aromatherapy baths, anti-aging treatments, and enjoy a moment of absolute relaxation. There's a salon as well, offering hair styling, barbering, manicures, and pedicures.
The spa area includes a lovely sauna that's larger than you'd typically expect on a ship this size. With a window facing the outdoors and long curvy benches, it's an enticing retreat after an active expedition.
The Fitness Center, boasting picture-perfect views of the open sea, features the latest Technogym machines including a Kinesis Wall.

RECEPTION
Le Champlain's common areas are designed and equipped to meet all your needs while preserving the intimacy of the experience. A 1500-square-foot reception area welcomes guests and fulfills a variety of functions from reception and concierge to excursions and boutiques.
WHAT IS THE PONANT 5-STAR EXPEDITION DIFFERENCE?
trip highlights
Endless summer days (literally… the sun is up almost all day and all night)
Discovery of reykjavík, capital of iceland.
Landscapes: vast glaciers, breathtaking fjords, volcanic rock, basalt pillars, jagged cliffs, & geysers.
Wildlife: atlantic puffins, northern gannets, arctic terns, minke whales, humpback whales, and,
icelandic horses.
Passionate nature experts onboard.
Never before in the history of all-LGBT+ cruising has this level of accessible high-end luxury been offered. And certainly, never to such an exotic destination. Savvy travelers recognize "value" doesn't mean "low price." Instead, value is defined as getting something extraordinary for a great price. And that is exactly what this Enchanted Iceland cruise delivers.
VACAYA is dedicated to providing you with the very best. That's what drives us, journey after journey. And it's amazing what's included:
7 Nights aboard the stunning Le Jacques Cartier (debuting in 2020)
All Meals, featuring subtle and audacious flavors inspired by our ports of call
Complimentary unlimited Open Bar throughout your cruise (premium alcohol extra)
Complimentary unlimited Open Mini-Bar in your Stateroom/Suite (premium alcohol extra)
Daily Afternoon Tea and Pastries
24 Hour Room Service
5-Star Service
24/7 Stateroom Service
24/7 Reception Desk
Lecturers, Guides, Naturalists, and Expedition Leaders
Gratuities to onboard crew, local guides, and drivers
Zodiac landing craft cruising or landings
Park entry fees into protected areas
Fitness Classes
Unlimited WiFi Internet Access
The following services are available for an additional charge:
Optional Shore Excursions, Optional Pre- and Post-Cruise Programs
Salon Services
Laundry
WiFi/Internet
Satellite Telephone Services
Medical Services
ACCESS
VACAYA and PONANT take you off the beaten track, as close as possible to nature and far from the routine. The yachts of PONANT are designed for extreme regions. The ship's smaller size allows us to bring you ashore at the most exceptional sites, which other ships are simply unable to reach, and shore visits by Zodiac® are organized to take you even closer. The Zodiacs® are easily boarded from the marina platform at the rear of the ship and enable fast, safe landings. PONANT's Zodiac® excursions are one-of-a-kind, unforgettable experiences.
FLEXIBILITY
Expedition itineraries are characterized by flexibility at all times…
Our Captain and Expedition Leaders can make unscheduled stops to let guests enjoy the surprises of nature.
ECO-FRIENDLY
PONANT prides itself on a constant respect for the environment, from the design of their yachts and procedures to low-impact shore visits. Their new generation of expedition vessels take that commitment to the next level by reducing the company's impact on the environment with a dynamic positioning system to avoid dropping anchor, hence protecting the seabed. A silent and economic electric propulsion and Farsounder Sonar provide 3D vision of the seabed at different depths. PONANT is consistently awarded Eco-Friendly Green Cruise Ship awards from world renowned organizations.
EXPERTISE
Everyone needs a savvy travel companion – someone who knows the ins and outs of all the fabulous places we'll visit. For VACAYA's 2020 Iceland cruise, we get an entire team of renowned anthropologists, marine biologists, historians, botanists, geologists, naturalists, and ornithologists. The Expedition Team has been selected for their knowledge and expertise and are ideal companions to enhance your journey of discovery as we travel through Iceland and the Arctic Circle.
CUISINE
As an essential part of French culture, gastronomy naturally has pride of place aboard Le Jacques Cartier. PONANT is the only French cruise company and we're confident you'll appreciate the signature French feel of design, attentive service, and fine cuisine.
While onboard, you'll enjoy a warm atmosphere, as well as a subtle blend of refinement and authenticity. By all accounts, this is a unique and tasty way to travel.
SURPRISES
With more than 15 years of expertise in the Polar Regions, PONANT delivers much more than an exceptional destination; it's the promise of an uncompromising journey and access to the grandiose landscapes of the Far North, where each day is full of unexpected surprises
The French flair shows in Le Jacques Cartier's suites and staterooms, which are light, airy, contemporary, and filled with luxurious touches.
Check More Pricing info Here
Please feel free to contact us and we can help you book your vacation. MY VACAYA also has a new reservation system allowing you to easily book your own trip. You can view pricing, pick your category and even select your own cabin or room when available. You can do this and still remain our client and it doesn't cost a penny more.
By allowing Concierge Travel to remain your agency of choice, you are making a difference in the community.  For example with our profits from the last four years, we have been able to expand our partnership with the Montrose Center in Houston and help create an annual event that has raised over $1,000,000.00 for the community. This has helped to create an LGBTQ Affirming Affordable Senior Living Center and has expanded their outreach to the LGBTQ Homeless Youth. In the last 3 years, thanks to this event, they have been able to triple the number of youth they support and place in their rapid rehousing program.
If you do book directly on their site, please follow up with us so we can assure your booking stays with Concierge Travel.