We're all ready to get out, get away, and hit the high seas, so let's do it in style without ever leaving the UK! Get onboard the new Virgin Voyages Scarlet Lady when Atlantis creates the ultimate weekend holiday over the August Bank Holiday weekend.
In 3 outrageous nights you'll thrill to jaw-dropping entertainment, spectacularly fun parties, fabulously original dining, whimsical experiences, and unexpected surprises on the coolest ship ever to set sail. With gorgeous design throughout, Scarlet Lady has all we've dreamed of and more. Be the first to experience the newest way to sail as we craft the ultimate all-gay party weekend at sea.
This voyage is currently open only to fully vaccinated residents of the United Kingdom, although other sailors might be authorized at a later date. See our pricing page for sailing requirements.
Scarlet Lady is the first ship purpose built for hyper-social, endlessly interactive, original fun — changing everything you thought about playing on the ocean. You'll feel like a true sailor on your own massive yacht-like playground. Imagine a pool deck designed for both relaxing and dancing. A gym you never want to leave.
Chilling out in a net 13 stories above the ocean. Wellness that surrounds you. Innovative dining unlike anything at sea. Brunch in two places. Everyday. Drag queen hosts and pop-up puppeteers.
Shows where you're part of the action and magic in unexpected places. And that's just the beginning. On top of all Virgin has to offer you'll be thrilled by even bigger Atlantis parties, our own original entertainment, and so much more. We've never played like this before!
You're never far from entertainment on Scarlet Lady, and sometimes you're literally part of it! From pop-up surprises to sensual dance productions, cutting edge DJs to a sex-themed talk-show, innovative theater to secret stories.  All with a little magic thrown in.
We'll showcase Atlantis' signature blend of singers, comics, drag queens, and our community's most talented performers. All appearing in new and creative ways.
There's never been a pool deck as perfectly designed for the Atlantis style of free-spirited dancing under the sun and stars. From our signature themed t-dances to outrageous nighttime parties we'll feature the world's finest DJs with a production unlike anything you've ever seen. All we can say is wait until you're in the middle of it all.
Join us late night for the ultimate after-hours events in the Manor nightclub and Red Room. This weekend the party never really ends!
As we receive more images, videos, and other information for Scarlet Lady, we will add to them here.
In the meantime, for a complete overview of this groundbreaking new way to sail, please explore the Virgin Voyages site right here: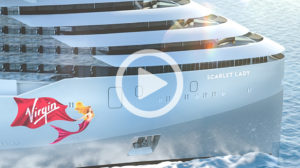 You can also preview the Virgin Voyages digital brochure below, which provides some additional great information about the Scarlet Lady experience: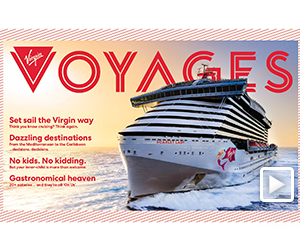 Designed. For fun!

You'll never mistake Scarlet Lady for any other ship. From her dramatic red and grey exterior to dazzling cool interiors, she's the combination of the talents of world-class designers. Built to create an immersive, interactive, and playful experience everywhere.

Step onto the sleek pool deck and you'll feel like she's your own private yacht filled with great friends and whimsical furnishings. Find your perfect setting along one of the two inviting pools, or one of the massive surrounding decks. As the day evolves, relaxing vibes give way to festive poolside playfulness, ultimately transforming into in the perfect space for Atlantis' friendly T-dances and outrageously fun night-time parties. A unique pool cover creates a spectacular and seamless dance floor and party space unlike any other at sea.

Sample your favorite sound at Virgin Vinyl or create a new one in the private karaoke rooms. Pop a cork at the gorgeous Champagne bar after a moment of glory in the boxing ring. Relax with friends on the lux open decks of the Dockhouse. Soak up a sunset high above the ocean in the Athletic Club. Stay up way too late in the Manor, try your luck in the casino, and top it all off by raiding the galley late at night.

There's a setting for everything and an abundance of new experiences waiting for you to explore. And all of it beautifully made for Atlantis and the way we play.
Serious Eats. Always Included.
All restaurants, with a caption indicating which one they are.Forget everything you know about dining at sea and indulge in a world where18 different eateries cater to every taste and style. And forget extra charges for "specialty" dining since all food is included at every restaurant.
There's no big dining hall where you have to queue up for a meal. Virgin's innovative booking system lets you plan dinner where you want, when you want, with friends old and new. Atlantis will enhance our tradition of shared dining with options to meet new friends at every meal, or to dine on your own. It's your choice and easier than ever. All with no dress code, of course.
If you're in the mood for authentic Italian, Extra Virgin will hit the spot with a lively setting and mix of classic and contemporary options. Or share something different at Gunbae, the first real Korean BBQ at sea!
Let the masterful chefs at Test Kitchen wow you with a modern tasting menu in a sleek food-lab setting. Indulge in modern Mexican at Pink Agave, where festive drinks match outrageously delicious food.
Relax with a mezze platter and cocktail on the open decks of The Dock or indulge in a perfect steak in the sleek and sexy dining room of The Wake below.
For all-day fare with abundant vegetarian options, the bold Razzle Dazzle satisfies in new and delicious ways. You'll be faced with even more choices at The Galley, Virgin's take on the food hall featuring everything from tacos to poke to ramen and plenty more in between. On top of all that you'll find freshly made pizza, fabulous ice cream, an authentic coffee house, and so much more throughout the ship.
In case you think we missed it, there's no buffet. Just an abundance of fabulous choices including a few surprises. And yes, excellent options are available round the clock!
The transformational Red Room boasts movable seating and a flexible stage to create unique settings for Virgin's wildly inventive production shows and Atlantis' legendary performers. You'll have to see it to believe it, and stick around later when we transform it into a spectacular late-night venue.
Named after Richard Branson's first recording studio, The Manor hosts the interactive Another Rose show, and transforms into an intimate performance space for Atlantis drag queens, cabaret stars, and specialty acts. Featuring three bars, two stories, and plenty of space to dance!
Arrive Better than You Left.
Sweat, relax or just be still and breathe — it's up to you. Virgin's wellness and personal style spaces provide a proper dose of Vitamin Sea to leave you totally restored and ready for anything and everything. A state-of-the-art Technogym lineup stands ready for your moves in Build and Balance, while the Training Camp offers unlimited (and always included) group fitness classes unlike anything else at sea.
Wake up to sunrise yoga high above the ocean in The Perch or run with a view on the outdoor track.
The sleek and inviting Redemption Spa has just what you need to make your day perfect. Revitalize with an innovative treatment, or take in all the thermal suite has to offer. And for the ideal touch up, Stubble & Groom is a man's haven that will get you in ship-shape, British style.
Superyacht inspired stateroom design offers much more than a place to sleep. Virgin's clever room technology and styling provide the ultimate hideaway at sea. Transform your room at the touch of a button. Mood-matching lights, a configurable and comfortable Seabed and in-cabin tech come together to make your life easier. Lounge by day, with plenty of room for friends, yet easy to convert to a bed for those times when you really do want to sleep!
If you're looking for the suite life, Virgin's Rockstar quarters will bring you the lifestyle you deserve. Accents of brass, stunning marble bathrooms, spacious stargazing terraces, champagne tables and exclusive treatment are yours in these VIP suites. Add a host of amenities including unlimited bar tab (for mega-Rockstar suites) for the ultimate in comfort and style!
Booking a suite unlocks access to Richard's Rooftop; the exclusive deck where elegance meets exuberance. A lavish, elaborate and members-only outdoor space for stargazing parties and pre-dinner cocktail hours for you and the other rockstars.
This incredible adventure has no adds on.
Set sail from Portsmouth, just an hour from London, for three somewhat crazy, totally unexpected, often wild, and yet purely relaxing days at sea. Settle into a stylish deck chair around the Athletic Club to catch some rays, connect with friends, or just enjoy the views. Drag yourself out to Atlantis' outrageous drag bingo (yes, that really happens), or savor a leisurely brunch. Just save some energy for our outrageous afternoon T-dances and surprise shows!
When you're ready to step things up, pop into an inspired fitness class at Training Camp, and afterwards find the perfect treatment at the Redemption Spa.
We're planning a non-stop festival of entertainment and fun that all of us need right now, with plenty of time to chill, relax, and enjoy the wonders of being at sea.
Everything Included. For Nothing.
Nobody likes paying for things they use all the time, like Wifi, basic beverages, and a terrific place for dinner. So we don't charge extra for them.Ever. Even fitness classes are included! Logon, drink up, spin a little, and enjoy!
Every fabulously original restaurant is included with more choices than any other ship at sea. All you have to do is decide whether to indulge in fresh Italian at Extra Virgin, Korean BBQ at Gumbae, a tasting at the Test Kitchen, brunch or steak at the Wake, all-day treats at Razzle Dazzle, and so much more. And there's no buffet in sight. Or a massive banquet-like main hall. Butwho needs one with all these amazing places?
Oh, and by basic beverages we mean sodas, water, coffees, juices, and most non-alcoholic offerings. The hard stuff is, of course, extra.
There's never been a pool deck as perfectly designed for the Atlantis style of free-spirited dancing under the sun and stars. From our signature themed T-dances to outrageous nighttime parties we'll host the world's finest DJs with a production unlike anything you've ever seen. After all, this ship was built for a party like ours!  All we can say is wait until you're in the middle of it all.
Indoors, we'll host fabulous parties in both the Manor nightclub and Red Room theater. Look for thrilling events in new and exciting ways.
We're taking the sea to a whole new level in 2021. Get onboard the ocean's newest experience today as we sail Scarlet Lady in her inaugural season! Book with confidence and stay flexible with our Play It Forward policy.
They can't wait to show you the future of sailing with Virgin and Atlantis! It's the perfect combination and the start of many more to come, and there's no better way to preview it than over a long weekend
Since Atlantis is a US-based company, They have to price their events in US Dollars, with super low fares starting at just $529 for 3 nights of non-stop fun. We want to make this weekend acessible to absolutely everyone — since we all need to get away! Contact Us
Plus, there's more included on Virgin than any other cruise that Atlantis offers:
Included Basic WiFi
All Premium Dining Included. Everywhere! (even room service)
All Basic Beverages Included
All Fitness Classes Included
Taking the sea to a whole new level. Get onboard the ocean's newest experience today and experience Scarlet Lady first!